It's proper camping on the farm, but with every creature comfort
Brittany and Cornwall share a Celtic-British history and a similar geography. Each is a westernmost promontory buffeted by Atlantic waves, with rugged capes and cliffs sheltering fishing villages and sandy beaches, while inland lie moors and the neolithic menhir monuments beloved by Asterix. Brittany, though, is almost 10 times the size of Cornwall and retains its own language and distinctive cultural traditions. In a part of northern Brittany blessed with place names like Plouezoc'h,Trudujo, and Beg ar C'hra you'll find La Ferme de Croas Men nestled in the rolling countryside.The flowery signs by the roadside were painted by Monsieur Cotty, who started the campsite 20 years ago and also created the many objets trouvés sculptures around the site.This is also a working dairy farm shared by four generations of the Cotty family and an ark-ful of animals.They raise and grow food for 45 cows, but there are also donkeys, goats, sheep, ducks, rabbits, chickens, and Max the Pig among the 30 or so breeds. Such a menagerie makes this site a great opportunity to introduce children to all sorts of animals.
This is much more than a glorified petting farm, though, for this place demonstrates how farm life has developed over the last century, with a museum of farm machinery next to Ty Coz, the original family cottage, which looks just as it might have in 1900, complete with a beaten- earth floor, massive table and benches, four-poster bed, vintage dresser, and grandfather clock, which stands opposite photos of the great grandparents.
Rather than being a dusty, hands-off rural museum, though, this room can be booked for a special breakfast – a stack of pancakes, fresh bread, and home-made jams just waiting to be devoured with tea, coffee, or hot chocolate.
The Cottys, among whom Raphael speaks excellent English, allow small visitors to watch the milking, feed the animals, and witness the farm in action throughout the day, asking only that adults are present to ensure safety and that animals are allowed to rest between 11am and 4pm.There are tractor rides and donkey-cart rides around the farm in July and August (keep a look out for over 150 different plants and trees), and plenty to see round about, with beautiful sunken-road walks starting from the farm itself.
The historic port of Morlaix is just 10 minutes' drive away, while the closest beaches and coves on Brittany's heather-covered northern coast, the wonderfully named Armorican Corniche, are about 15 minutes away by car.
Morlaix is famous for its colossal viaduct, the remarkable 16th-century house of Queen Anne of Brittany, and for beating off an attack by an English fleet in 1522.The English sailed up the estuary and found the town undefended and, in true medieval style, proceeded to pillage. But they made the mistake of lingering in the wine cellars until the locals returned to drive the inebriated intruders away, subsequently adding 'S'ils te mordent, mords-les!' ('If they bite you, bite them!') to the town's coat of arms. Fortunately, there are no worries about overstaying your welcome any more, with spacious pitches, cabins, or tents waiting for you just 20 miles (32 km) down the coast from the port of Roscoff.They're used to visitors here year-round as the farm is often visited by school groups, and one of the friendly features is 'Oscar', the name given to a building Monsieur Cotty constructed from boulders and stone blocks that Obelix would have been proud to lift. Inside this wonder is an equally massive table for campers and farm visitors to socialise and feast around, whatever the weather.
Best Price Guarantee, with no fees
Instant booking confirmation
Trusted for over 10 years
A chance to win prizes in our regular competitions
Campsite Gallery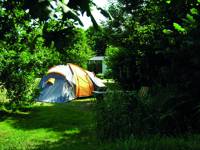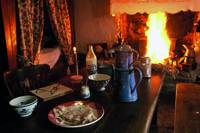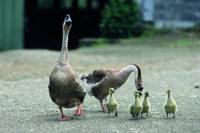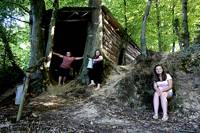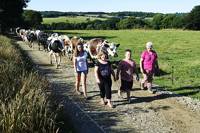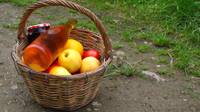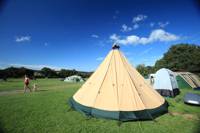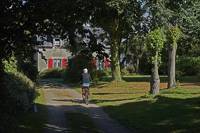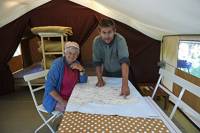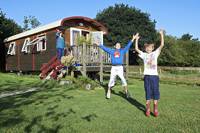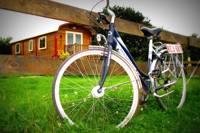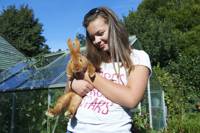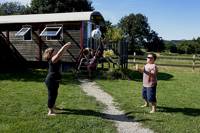 The campsite owner says
We are a small, family owned campsite and farm, located in the heart of the beautiful Breton countryside. You are welcome to visit the farm and the animals (donkeys, goats, chickens, ducks, rabbits, a pig…), watch the cows being milked, stroll around our kitchen garden, and visit the Ty Coz, a traditional Breton farmhouse and our museum of old farm machinery. During summer, Freshly baked bread and croissants are delivered to order each morning, and you can also pick up some farm produce at our reception, including our home made organic apple juice and cider.Pitches are flat, grassy and partially shaded. Or if you prefer you can try our rental accommodation- we have gypsy-style caravans, wooden floored canvas ridge tents, a spacious chalet and a cosy little dream cabin. We have 2 clean, modern toilet blocks, showers with free hot water, kitchen and bathroom sinks, washing machines. There is also a playroom and a computer with internet access
Nearby Attractions
Nearby attractions include the historic town of Morlaix (10 mins), with its bars, restaurants and weekly market, the Chateau du Taureau (20-30mins plus a boat trip!), the Chateau Kerjean (40mins), the famous Oceanopolis at Brest (45min), the incredible Granite Rose Coast (45mins) and, of course, the beach- there are plenty to choose from a mere 10-20 minutes away
Directions
Please visit our website for directions. The campsite is very well signposted- just keep an eye out for the pale blue sign posts!
Book campsites near Le Ferme de Croas Men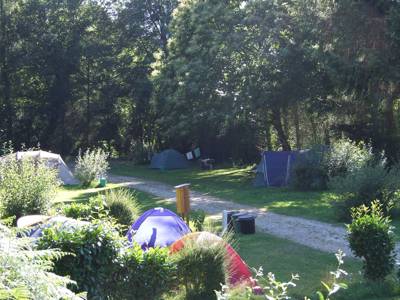 i
Campsites in Finistère
Campsites in Brittany
Campsites in France
Available:
1 Pitch
1 Safari tent
i
Glamping in Finistère
Glamping in Brittany
Glamping in France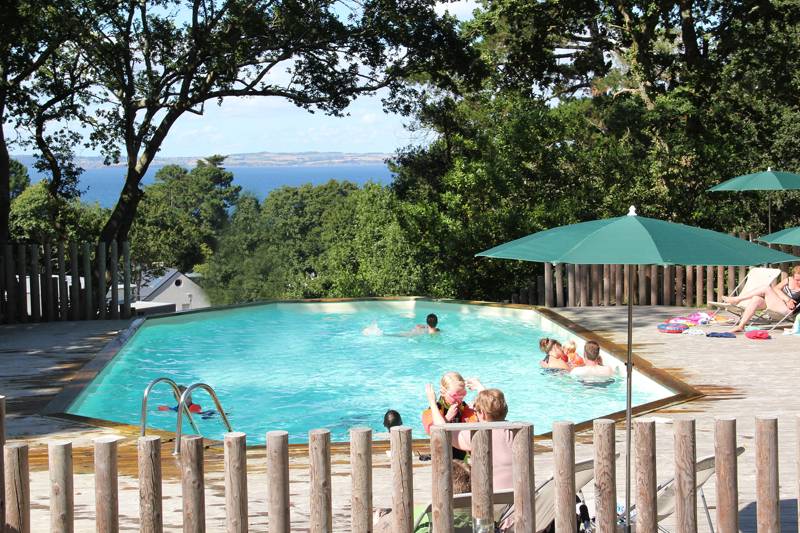 i
Campsites in Finistère
Campsites in Brittany
Campsites in France