Camping Domaine de La Serre
Camping La Serre, 09600 Aigues-Vives, Ariège, France

















Giant pitches and an onsite nature reserve at this award-winning Languedoc eco-campsite
It's no surprise to us that when one of our favourite campsites from the Cool Camping France book was put up for sale in 2014, it was snapped up immediately by a pair of avid fans. After all, the site is nothing short of a masterpiece and today it continues to be a fully-fledged, award-winning work of wonder. It's certainly not lacking in space, nor is it lacking in stonking views and excellent facilities. So what a joy it is that new hosts, Corinne and Patrick are just as welcoming and friendly as the last.
The first thing you notice about Camping La Serre is the sheer amount of room. This is no higgledy-piggledy campsite with people heaped on top of each other, but an orderly, manicured place with masses of trees, well-kept grass, and wide-open skies. There are 14 wooden chalets on site as well as an area for caravans, but the high hedges mean they're generally unobtrusive. Plus the 48-pitch tent area is entirely separate and comes with similarly vast, enclosed terraces that are shaded by ancient oaks, thoughtfully placed so as not to obscure the views. The newly-built Cabane dans le Arbes ('the hut in the trees') offers a charming alternative if you're on the hunt for something different. A timber treehouse that comfortably sleeps a family of five, the fully-equipped lodge offers perfect sylvan seclusion and a sweeping panorama of the Pyrenees.
The rest of the campsite is connected via large walkways that have their own names, underlining the impression that you're in a self-contained universe here. The reception area is fairly simple – a small cabin with an adjacent basic laundry room, a naturalist's library, and tourist information leaflets – and the owners are always at hand to give out advice, maps, cycling circuits, and more. Around the corner there's a decent-sized pool, a badminton net, slides and a football pitch, while, on the other side of the reception wall, a huge warehouse is filled with old farming equipment – an eco-museum started by the previous owners and later expanded through local donations. It gives a thorough picture of France's farming practices over the years and, in the summer months, the site also organise weekly programmes, including slide shows, eco-tourism days and a local product-tasting evening with farmers bringing wine and produce for campers to sample.
Large and spacious as it is, the campsite only takes up a small portion of the total 170 acres on offer. Much of the remaining space is grazed by skinny, summer-shawn sheep, but 15 acres have been set aside and turned into a wild nature reserve that houses various species of orchids, birds, and butterflies. Campers can head off on foot to walk the well-marked (and informative) trails that run throughout or, if you're looking to head further afield, the surrounding countryside is awash with dips and peaks for cyclists to take on. There are pretty villages to discover and larger cities, such as Toulouse, to visit. You can even be at the Mediterranean in an hour and a half! Something tells us, though, that you'll be in no rush to get away. After all, we think there's nowhere better.
Campsite Gallery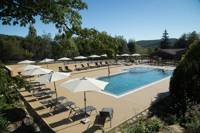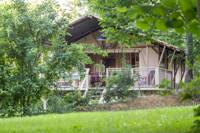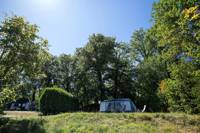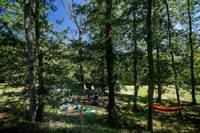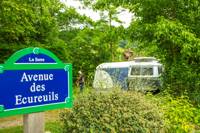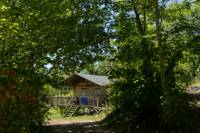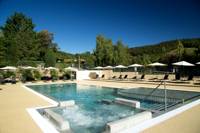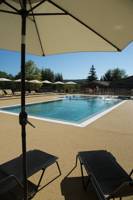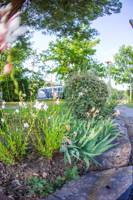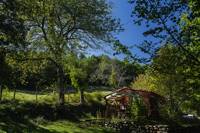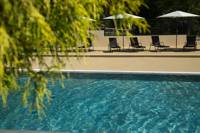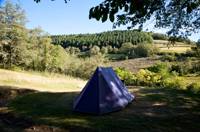 The campsite owner says
Welcome to the Campsite and landscape of La Serre, a campsite at the foot of Pyrenees Ariege.
Corinne and Patrick welcome you as La Serre guests, a camping area with 66 pitches, ideally located in a south-east-facing valley 450 meters above sea level. The campsite overlooks the Pyrenees and the castle of Montsegur.
Our 47 pitches for tent, caravans or campervans are on wide terraces, delineated and shaded with no vis-à-vis and all offering different views. There are also 8 cabins and 4 mobile homes, scattered in a natural setting – each have a wide private space. We also offer a tree house in its own private area.
In true family spirit, you have access to a giant playground of 1 hectare with a soccer field, volleyball court, mountain bike tracks, badminton, wooden games for all ages and covered courtyard for ping-pong. The pool and solarium are arranged so that everyone can find peace and relaxation.
Family life, silent nights, comfort, cleanliness and respect for everyone are guaranteed!
Best Price Guarantee, with no fees
Instant booking confirmation
Trusted for 10 years
A chance to win camping goodies in our regular competitions!