A thoughtfully created, family-run glamping site, with super stylish accommodation, acres of space and a sparkling emerald lake
Though Domaine d'Escpa was bought by Lilian and Virginie Donnais in 2008, it was several years until this wildly beautiful retreat in Gers, just north of the Pyrenees, opened to guests. In the intervening period the couple, along with their five children, lived in a traditional gypsy roulotte. As their ponies grazed in the long grass beyond, the family penned out their ideas for the land over cups of coffee and freshly baked bread. Today, their bohemian lifestyle and rambunctious, infectious belief that anything is possible has seen the place utterly transformed. With almost 100 acres at their disposal, Domaine d'Escapa remains wild, yes; Beautiful, yes; but also wonderfully luxurious and refined. It's the perfect glamping recipe.
Now living in a small country house on the campsite, Lilian and Virginie welcome guests on arrival and walk you down to your glamping accommodation. To indulge in the same bohemian past, visitors can stay in one of ten roulottes, each with a fully-equipped kitchen and living area, plus en-suite facilities, or you can pluck for one of the special tipi-cabins, a tipi-like structure but more robustly structured, with wooden lower walls and a raised floor. Inside it's all modern pine and panel interiors with a proper kitchen area and beds, while, for a real delight, their "carre-detoiles" huts – translating as "square of stars" – sheds the canvas altogether and allows you to sleep inside a wooden cube with circular roof windows for stargazing.
Undoubtedly, however, it is the cabins on stilts that steal the show at Domaine d'Escapa. Set back into a tree-clad slope, with far-reaching, south-facing views towards the climbing peaks of the Pyrenees, the family abodes are not quite treehouses but certainly the next best thing. Leaves dance in the breeze outside your windows, while, inside, an exposed wood finish gives the whole place an almost alpine or Nordic feel – elevated in style as well as height. The modern kitchen features a Senseo coffee maker and the washroom a powerful shower. For maximum luxury, meanwhile, three of the cabins also have simmering hot tubs on the spacious veranda outside.
Beyond the delights of the accommodation the campsite has a heated swimming pool and a great oblong lake you can paddle about on in canoes. If you decided to forego the luxury of a hot tub at your cabin, then there is another one by the pool for anyone to use, plus a sauna room you can book for €9. Beyond that, there are the campsite's chickens to entertain the kids and Lilian and Virginia still breed horses here too. Alas, you can't take them galloping wildly across the countryside but you can hop on a bike and ride the five kilometres to L'Isle-de-Noé instead. The cute little village has an old château with a delightful courtyard restaurant. The best bit? For exciting things to do nearby, it's just the tip of the ice-berg.
Campsite Gallery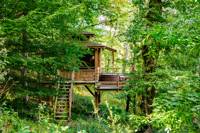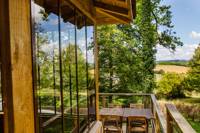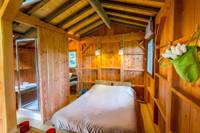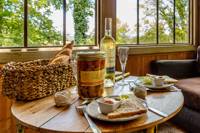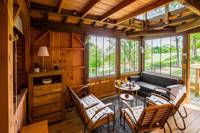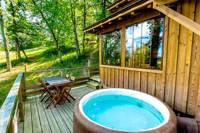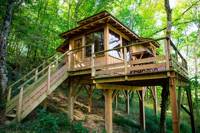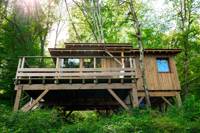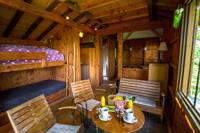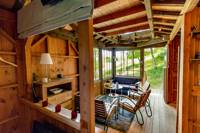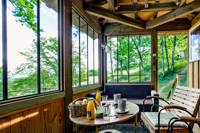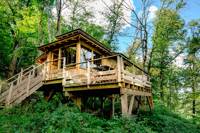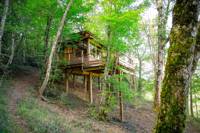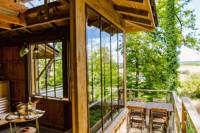 Video Tour
The campsite owner says
Our 40-hectare property at the very heart of rural and authentic Gers offers surprising accommodation to those willing to have a wild stay: trailers/roulottes (2 to 5 guests), carrés d'étoiles (2/3 guests), tepees (until 7 guests), family cabins (2 to 6 guests) and cabins with private jacuzzi (2 to 6 guests). Various activities are available on site: heated swimming and paddling pool, outside spa, sauna, fishing; as well as in the surroundings: mountain bike, hiking on The Way of Saint James, jogging routes, horse-riding…
With original accommodation, the Domaine d'Escapa invites you to take a beautiful journey inside bohemian life. Virginie, Lilian and their tribe are your hosts for the holidays, in a pleasant "family spirit". Horses, donkeys, ponies, as well as the lake and the forest park allow you to rest and recharge your batteries into the wild.
Best Price Guarantee, with no fees
Instant booking confirmation
Trusted for over 10 years
A chance to win camping goodies in our regular competitions!