Forest View
L'Espérance, Dorceau, 61110 Remalard en Perche, Orne, France













Cool views, warm hospitality, hot meals, and cold ice creams. Plus a whole lot of history.
Peter and Sarah Wilson took over Forest View in October 2012, transforming the wilderness they found into a comfortable, easy- going site that lies by a quiet crossroads between the edge of the Forêt de Saussay and a landscape of gently rolling farmland. While the forest is huge and forms a significant part of the Parc Naturel Régional du Perche, the site itself could easily be called Lake View because it's the reflections in the fishing lake that most people love to gaze at.
The lake is stocked with rudd, roach, pike, and tench, but there's a firm no-killing policy, so even if you land a giant carp it must go back in the water. Most people come here to ride horses or bikes, to paint, watch birds, or walk in the woods of tamarisk and hawthorn. You can easily arrive and leave the car onsite all day; taking off on foot to explore everything that's on offer.
The irony is, that for all its beauty, this region is often bypassed in the rush to get south to the Loire and the Dordogne. It's a land of forests, ancient abbeys, and fortified manors with massive circular towers and beautiful gardens. The longer you stay the less you'll want to leave. The area is famous for its lace, its powerful Percheron horses, and for unspoilt thousand-year-old villages such as Chapelle-Montligeon, where an early-20th-century, gothic revival cathedral, Notre-Dame de Montligeon, rises somewhat bizarrely above the fields. And it's also known for its wonderful cider and hospitality, both of which can be sampled back at camp during one of Forest View's unique Plat du Jour evenings. Within the site's traditional farm house restaurant, campers can relax around long tables, sharing tales of the day's adventures and enjoying delicious home-cooked food.
Campsite Gallery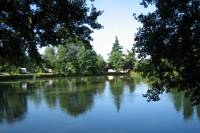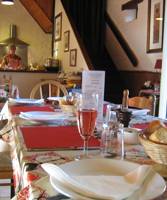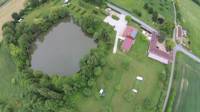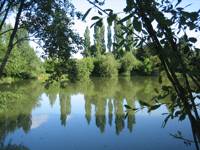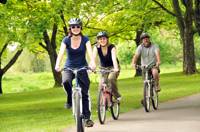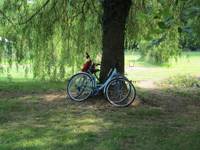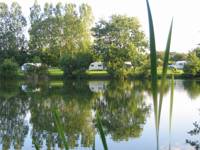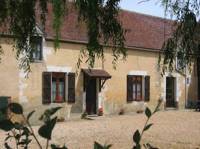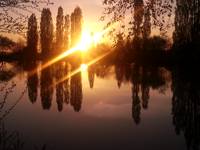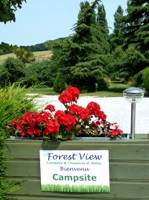 The campsite owner says
To avoid any confusion, we only accept bookings directly by calling 0033 (0) 233 83 78 55 or through our own website. To access this please click on the word WEBSITE under our address at the top of this page – thank you.
Maybe it's the forest backdrop of broad leaf and firs or perhaps its the dappled reflections on the lake but something strikes you about Forest View the moment you arrive.
We are Peter and Sarah Wilson and apart from being in the leisure business for 30 years we have been campers, caravanners and motor-homers for the last 20 years. In that time we have formed a pretty good idea of the importance your chosen campsite has in the success or failure of a holiday. We understand that different clients are looking for different things from a site which is all too often ignored by campsite owners. For example, we have dedicated quiet pitches for those clients who wish to quietly relax and who may not have or welcome children. By the same token we love kids and so we have family camping in the orchard, with vast open areas, close the site amenities, where your whole family can relax and the children can play in safety. Happy kids have happy parents. Lastly we have our wild camping area. A lakeside oasis of shaded and secluded unmarked pitches for that back to nature feel. Close enough to the amenities but remote enough to feel like you're not even on a campsite.
In essence our goal is to create a space with an atmosphere in which every client leaves wishing they could stay a few more days. We hope you get a glimpse of our vision and perhaps decide to experience the unique ambiance of Forest View for yourselves. We hope you do and we look forward to welcoming you to our little piece of paradise.
Peter & Sarah Wilson
Special Offer - The Longer you stay the less you Pay
Stay 2 nights and save 10%.
Stay 3 - 5 nights and save 15%
Stay 6 - 10 nights and save 20%
Stay 11 nights or more and save 25%
Discount available ALL YEAR
Please note all advanced reservations are a minimum of two nights. Single night stays are very welcome, subject to availability, on the day of arrival BEFORE 19:00 please. This is simply to preserve the peace and tranquillity of this beautiful place for our longer stay clients.
Plat du Jour Restaurant open Tuesday, Thursday and Saturday.
Fantastic Pizzas cooked to order open Monday, Wednesday and Friday.
Reviews
Add Your Review
when we leave we can not wait to go back
we go to Forest View twice a year we call our caravan our Chateau on wheels because the whole site has a quiet feeling as if you are alone but of course you are not .The site has your friends that you have made over the 4 years we have been visiting , and making new ones We love this site so much we feel we are part of the Wilson family (Peter and Sarah) Nothing is to much trouble for them ( making birthday cakes to help repairing vans and cars ,
Best Price Guarantee, with no fees
Instant booking confirmation
Trusted for over 10 years
A chance to win camping goodies in our regular competitions!
Book campsites near Forest View
i
Campsites in Eure-et-Loire
Campsites in Loire Valley
Campsites in France
Available:
1 Pitch
2 Cabins
2 Safari tents