Playful cowboy camping ideal for families
All kids love playing 'cowboys 'n' injuns'. Some grown-ups do for that matter too. Well, if you're the type to get giddy at the theme from Bonanza, then saddle up partner and mosey on down to Picardy's funnest darn-tootin' new camping experience. Camping Etangs du Moulin is a slice of The Old West in the rural French north. Run by affable host Agnès ('her's the sheriff round these parts' – we'll stop now) along with husband Sebastien, this is the ultimate getaway for your tiny Tontos... not to mention all bigger Buffalo Bills.
Just outside the blink-and-you'll-miss-it hamlet of Suzy, Etangs du Moulin's variety of western-themed accommodation is sure to bring out the John Wayne in any intrepid pioneers. While there are an ample 30 level grass pitches for tents, caravans and modest-sized motorhomes, those seeking the authentic experience should opt for one of the hand-built pioneer waggons. Kids will love these charming chucks that can sleep a family of up to five. John, Lucky, Clint, Calamity and Charles are fitted with a double bed, a triple bunk, kitchen, shower and toilet. Best of all, they're equidistant from both the playground and saloon so mum and dad can enjoy a few scoops at the rum-hole while the littl'uns get in character.
But it isn't all about the kids here. For those looking to really push the pony out, La Village Boheme features a trio of handsome roulottes, secreted away from the rest of the site. These gorgeous gypsy caravans are pretty much self-contained and you can even indulge in a spot of pampering with chilled champagne waiting on arrival, meals brought to your door and a full-body massage (just... erm... like the real cowboys then).
Elsewhere, the tipi reservation features five Native American-style canvas abodes. Each sleep two couples and come complete with wood-burning stoves, BBQ, outdoor seating, and the 'Cheyenne refuge reserve' provides an atmospheric communal area for cooking and dining.
For those who like their camping with a large dose of comfort, the six wooden cabanes have something to suit all glamping guests. Enjoying excellent views from their enviably-elevated position atop stilts, the lodges range from a two-person love shack to the family-sized Fisherman's Hut waterside cabin, with spacious veranda for spotting the trout leaping from the lake. The newest cabanes are the Cabane de D'Jo - with views on the lake from the king sized bed and a wooden bath and the Cabane du Grizzli with a round bed overlooking the lake and a hydro jet shower. Both set amongst trees by the waters edge - so kick off your boots and enjoy a spot of fishing from the veranda as you take in the tranquility of this setting.
As the name suggests, there are an abundance of carp-filled lakes here at 'the watermill' and rods can be hired onsite. For those not as enamoured with angling, there's a heated outdoor swimming pool and a varied choice of other activities on offer, including pony trekking. And while you can't exactly rustle cattle, there's a proliferation of tiny, fluffy wild rabbits to herd. Don't forget your stetson.
While the French and gastronomy go together like Butch and Sundance, the culinary delights on offer at Etangs du Moulin are of a distinctly more American flavour. The onsite Tex'n Restaurant is something of a local institution (a testament to the quality of the site), with vacationing vaqueros joined by the natives for a carnivore-friendly menu of pub grub favourites and pintxos to accompany the selection of quenching bières d'Abbaye. Campers can also order from a selection of mightily meaty BBQ packs to slap on their own personal grill – bison steak anyone?
Campsite Gallery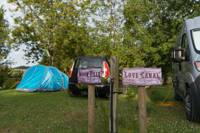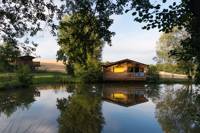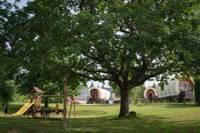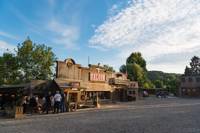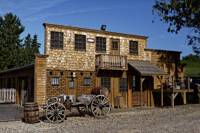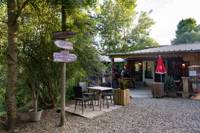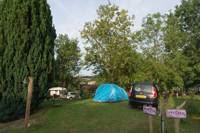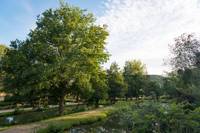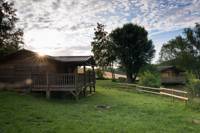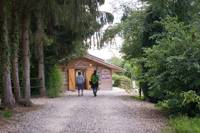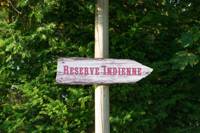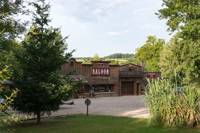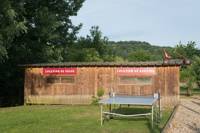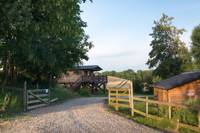 The campsite owner says
Welcome to our western-style Resort, with unusual and unique accommodations: wagons, tipis, log cabins, gypsy caravans and a campground. All just a 2½-hour drive from Calais and 15 minutes from Laon in Picardy, France. Located near the forest of St Gobain, the 3 stars resort "Les Étangs du Moulin" is the best place to ressource yourself, in the middle of nature.
Our Camping is a small, friendly site to the south of St Quentin, established over 40 years ago and with just 61 camping pitches, each of which is named. There are no fewer than 8 lakes here, making this site a good choice for anglers (fishing materials available for rent). The Saloon has a Wild West theme and this is continued throughout the site, with teepees (available for rent), log cabins and an American-themed shop. Mountain bikes are available for hire and we are more than happy to recommend a number of different routes.
Best Price Guarantee, with no fees
Instant booking confirmation
Trusted for over 10 years
A chance to win camping goodies in our regular competitions!