Hooks House Farm
Whitby Road, Robin Hoods Bay, North Yorkshire YO22 4PE









Panoramic views over sea and moor from a peaceful, low-key site
Robin Hoods Bay, near Whitby in North Yorkshire, is an area steeped in romance and intrigue. Its very name is a mystery: there's nothing to link this place with the infamous green-clad hero of Sherwood Forest, but the name stands as an inexplicable suggestion of some legendary past.
What's certain is that this was smuggler country. And if you arrive at Hooks House Farm late on a clear evening under a full moon, you'll be able to picture the scenes from long ago, as the breathtaking sight of the wide sweep of the bay is laid out beneath you in the silvery moonlight... Step back a few centuries and you'd have spotted the shadowy figures as they emerged from small wooden boats and scuttled towards the shore clutching their contraband... Throughout the 18th century, locals crippled by high taxes turned to illegal imports to make money, receiving tobacco, brandy, rum, and silk from Europe. Gangs of smugglers used a network of underground passages and secret tunnels to deliver the stash inland, making a tidy profit in the process.
Even now, the charming town of Robin Hoods Bay has the feel of an age-old smugglers' den, with unfeasibly narrow streets and tight passageways – although these days you're more likely to stumble across a second-hand bookshop than hidden contraband. Ancient fishermen's cottages cling to the near-vertical slope as the cliff drops down to a little harbour at the water's edge. In addition to this older part of town there's a newer,Victorian enclave on the flat ground at the top. The well-ordered mansions are a world apart from the cobbled jumble below.
To shed some light on the town's past, the volunteer-run museum (01947 881252), reached via the narrow cobbled pathways and steps, has a model of a smuggler's house, showing how contraband could be concealed, as well as stories of shipwrecks and historic rescues.
Although the bay is picturesque, it doesn't have a beach to tempt sunbathers. The ground is dark and rocky – more suitable for bracing walks, rockpool explorations, and fossil hunting than lazing around. But the wide sweep of this bay is stunning. And at the friendly, family-run campsite at Hooks House Farm, high up on the hill above town, you couldn't wish for a better vantage point. The first-rate views really make this site: from its grassy field sloping gently down towards the sea you can watch the tide wash in and out over the whole sweep of shoreline, or gaze across a colourful patchwork of sheep- and cow-dotted fields, woods, rolling hills, and moors.
And if you're feeling energetic, the surrounding countryside (including the Yorkshire Moors) is perfectly placed for outdoor fun. The disused railway line that runs through here on its way from Scarborough to Whitby has been transformed into a popular walking and cycling path, and forms part of the wittily named Moor-to-Sea path, a longdistance route that provides up to four days of cycling. Robin Hoods Bay also marks the eastern end of the classic Coast to Coast Walk, while the Cleveland Way, a 110-mile National Trail between Helmsley and Filey around the North Yorkshire Moors, also makes its way along the coast here. If you're after shorter walks, try the half-mile stretch beginning with a footpath from the site down to the town, where you'll find several cosy pubs – all great venues for discussing the demise of smuggling as a lucrative career, the possibility of finding fossils on the beach, or even for speculating on how Robin Hoods Bay might have found its name.
Campsite Gallery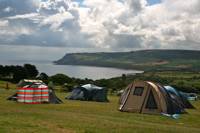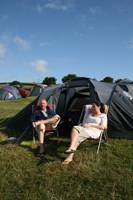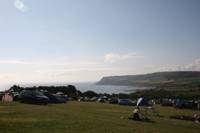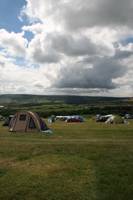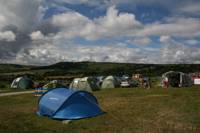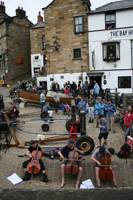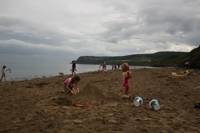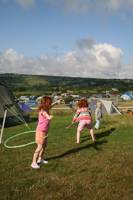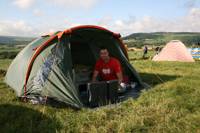 Best Price Guarantee, with no fees
Instant booking confirmation
Trusted for 10 years
A chance to win camping goodies in our regular competitions!
Book campsites near Hooks House Farm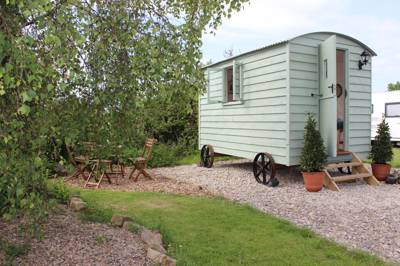 i
Glamping in Staithes
Glamping in North Yorkshire
Glamping in North East England
Glamping in England
Available:
2 Bell tents
1 Shepherd's hut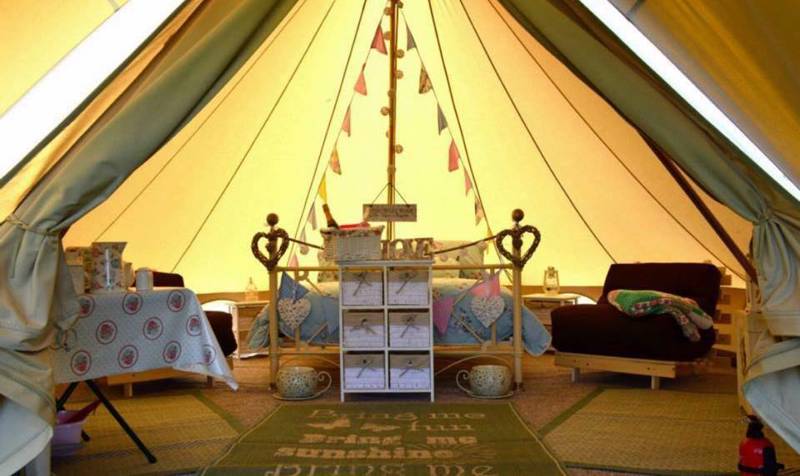 i
Glamping in Staithes
Glamping in North Yorkshire
Glamping in North East England
Glamping in England
Available:
1 Bell tent
2 Camping bungalows