A lovely, private dingly dell – with the added bonus that you can hire the whole place for even more privacy!
A secret, shady glade near an old castle may sound like the stuff of fairy tales, but Hop Pickers Wood Campsite is no fantasy. First opened in 2012, it's a tiny little grassy clearing of just ten pitches, surrounded by trees, wildlife and the soundtrack of British farmland in summertime.
Due to it's size and the fact that the owners want to keep it relatively secret and exclusive, campers need to book ahead rather than just turn up. You also won't know the exact location until you make a reservation, but let's just say it's not far from Bodiam Castle in East Sussex, hidden about half a mile down a private track.
You'll probably be greeted and guided in by friendly owner Anna Eastwood, who also runs the adjacent Original Hut Company. After parking your car (quite possibly next to a tractor, as this is very much a working farm), you'll need to walk your gear down to the clearing, but it's literally only 10-20 metres to the pitches, so no great hardship.
The facilities are in keeping with this low-impact place; the eco loos, hot showers and washing up facilities are housed in a discreet Shepherd's Hut. There's also a handy sheltered area with an open fire which makes it ideal for communal gatherings – in fact, the whole site is perfect to hire out for groups of families or groups looking for some privacy and seclusion. The 'whole site' rates are very reasonable for such a lovely little place in such a good location.
Campsite Gallery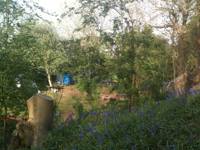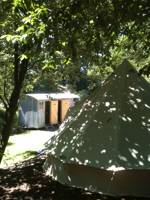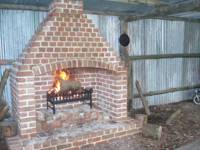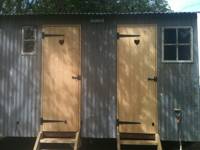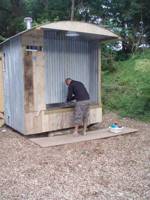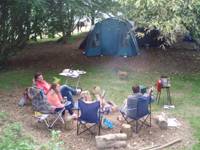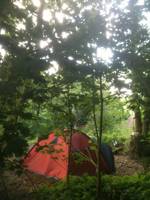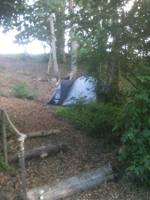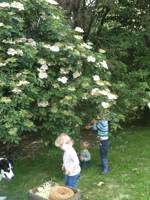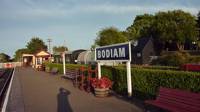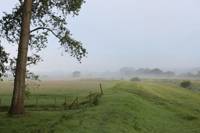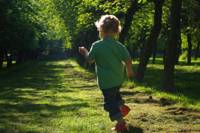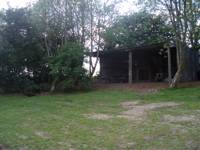 The campsite owner says
Love the idea of camping, but don't want the hassle of putting up the tent?! Nowhere to store a tent in your car, or don't want to waste any valuable food and drink space on camping gear?!
No problems, leave that all to us!
We have 6 of our beautiful bell tents available for hire, that will be all set up and waiting for you on your arrival in one of our picturesque campsites. Our campsites offer wash huts with 2 loos and 2 piping hot showers, private fire pit per pitch and a covered seating area in case of any changes in the Great British weather!
Each Bell tent  is 5m and can accommodate up to 4-5 Adults in a single tent, maybe 6 at a push for families traveling with children. The tents are pre erected for you and fully equipped with everything but bedding and a gas stove. These can be purchased from our shop though! It's comfortable hassle free camping, Simples!!!
We love camping and have developed Hop Pickers to tick every box that we would like to see in a campsite.  The site is quiet, off grid and of minimal environmantal impact.  Campfires are positively encoraged (but only within clearly marked fiepits).  tiny, within this tiny non commercial site each pitch has space around.  It is possible to see you children anywhere within the confines of the site which allows the mthe freedom to explore any you the knowledge that they are safe.  We never allow a group to take more that 5 pitches so the site shouldn't ever be over run with one party.  The loos and showers are attractive and the showers piping hot.  The wash facilites are regualy cleaned.  We love the restored hop Pickers cook house.  This offers campers a communal covered area with a huge fireplace to sit and dry out in the warm should the Great British Summer let you down.  This has proved to be a great space for families and friends to get together in the evenings even if the weather isn't perfect (and has been the birth place of the odd hangover!!). 
There is loads to do in the Local area with the Historic towns of Rye, Battle,  Hastings and Tenterden all within 10 miles.  There are loads of Gardens and woodlands to visit, National Trust  and English Heritage Sites.  Locally there are great Beaches, proper old fashioned sea side fun.  As well as fantastic Local Gastro experiences. 
The site is on our family run farm, there are 200 acres of grass land and orchards to explore.  The River Rother flows through the bottom of the farm and can be fished during the season for a variety of course fish.  The Kent and East Sussex Steam Railway runs into the farm enabling guest to catch a steam train to Tenterden for Lunch. Or hop on a boat trip down the river from the castle to the next pub. 
We are very happy to accommodate groups on a sperate site on the farm.  This offers the same wash facilities and a covered communal area, but is removed from Hop pickers Wood
Best Price Guarantee, with no fees
Instant booking confirmation
Trusted for over 10 years
A chance to win camping goodies in our regular competitions!
Book campsites near Hop Pickers Wood