Wildflowers, birds and butterflies abound at this traditional tent camping pop-up on the Hampshire-Dorset border
Straddling the Dorset, Hampshire and Wiltshire borders, Martin Down is a wild, chalky grassland that stretches for almost 1000 acres across Cranborne Chase AONB. Birds and butterflies of various song and shade can be found here, attracted to the profusion of wildflowers that pepper the sprawling meadows and scrub. It's an ancient landscape, and while it might lack the dramatic contours and undulating slopes of the South Downs, the hand of history seems to touch the very air here, from its Bronze Age barrows to its Second World War firing range.
Set amidst this captivating backdrop lies Maple Field Camping, a three-and-a-half acre farm hosting camping for a few privileged pitches throughout the summer. Helmed by affable host Nick, this simple yet charming spot offers up to 40 informally laid-out camping pitches with scenic views towards the surrounding hills of Cranborne Chase. Rustic facilities are housed in the farm's L-shaped barn with a basic washing-up facilities, hot shower and proper loo (supplemented by a couple of other portable varieties onsite). This cosy communal space also makes a decent refuge from the rain, but when the warm summer evenings draw in, most campers congregate around the central firepit that serves the whole site, gazing upward in awe at the pristine star-studded night sky.
Nick is a wellspring of local knowledge, and a veritable Wikipedia of the resident flora and fauna. Keep your eyes and ears peeled for blackcaps, buzzards, hawks, robins, red kites, wrens, thrushes, jackdaws, starlings, turtle doves and finches (both bull and gold) to name but a few, not to mention the vibrant Chalk Hill Blue and Adonis Blue butterflies. Nick can point you in the direction of the best walking routes and Neolithic burial mounds. Lying just outside Fordingbridge – the gateway to the New Forest – and with medieval Salisbury, Stonehenge and the sandy beaches of the South Coast lying close by, there's enough in the region to keep you entertained. One local little gem is Damerham, the pretty nearby village set beside the River Allen (a tributary of the Avon) with thatched cottages, a Norman church, riverside mill and a lovely pub overlooking the cricket green.
Campsite Gallery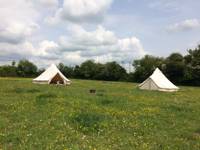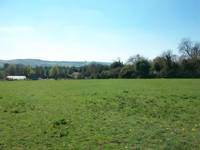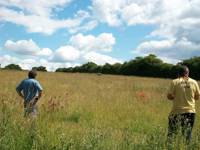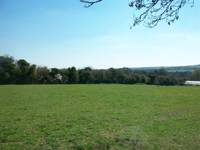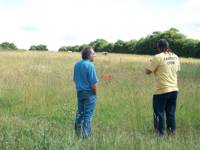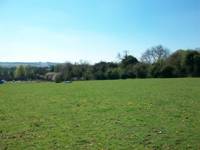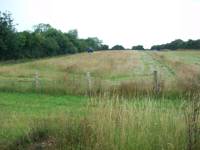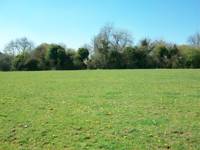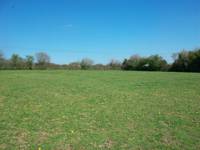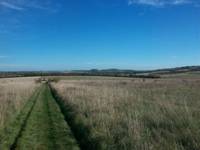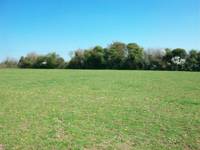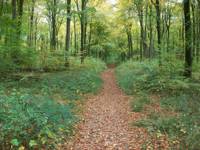 Best Price Guarantee, with no fees
Instant booking confirmation
Trusted for over 10 years
A chance to win prizes in our regular competitions
The campsite owner says
You will share the beautiful field with hedge sparrows and woodpidgeons and blackcaps that will  sing you  into wakefulness : with long tailed tits ,robins, wrens and bullfinches : with goldfinches on the thistle flowers and wagtails on the barn roof : with rooks, rabbits and Renard the fox : with goldcrests, blackbirds and mistle thrushes : tawny owls and spotted flycatchers and jet black jackdaws : with crowds of starlings that arrive like American tourists all eager for knowledge : and overhead you will hear the  cry and meow of the buzzard : watch the fork tailed red kyte and marvel at the deadly approach of a sparrow hawk : hear, perhaps for the first time, the 'woo-wooh' of the shy little turtle dove.  The hedges that surround you were planted before 1780 and are solid examples of early Enclosure Act barriers.  Next to you is the giant Longbarrow up a sweet curving lane.  Within your temporary Parish are 3 other major Neolithic burial sites –King's Barrow ; Knapp Barrow and Hanham's Barrow.  The Dorset 'Cursus' pulls up just short of Martin Down to the south : you can walk along the magnificent earth work of Bokerly Dyke.  You can follow a perfect Roman Road along the north boundary of the Parish for 2 miles, lined on both sides with wild garlic probably brought here in the clefts of the soldier's sandals. You can go home with your head ringing with pre-history.
You are going to count your blessings in murmuring song birds and satisfying full-english breakfasts looking over Martin Down from your tent door.
Best Price Guarantee, with no fees
Instant booking confirmation
Trusted for over 10 years
A chance to win prizes in our regular competitions
Book campsites near Maple Field Camping