Over 400 pitches found on a gentle south-facing slope with gorgeous countryside views
Only a few miles off the Hampshire coast, the Isle of Wight does it's best to bottle the classic British holiday. An ever-popular retreat for walkers, cyclists and the bucket-and-spade brigade since Queen Victoria's reign, the island's leading appeal is its countless outdoor activities, mild climate and dense green hills that roll down to over 20 miles of unspoilt beaches. However, things are developing and the last decade has also seen a youthful buzz injecting life into its towns and villages, attracting a new generation of campers with fancy gastropubs, vintage antique shops and international music festivals.
Found on the island's picturesque east coast, Whitecliff Bay is a great spot for families and small groups. The site offers a wide range of accommodation, with over 400 pitches for traditional campers set on a south-facing gentle slope with stunning countryside views. A variety of glamping options can be found at 'Canvas Village', where a dozen bell tents and 'Canvas Cottages' are ideal for those who don't want to compromise on comfort. If you're a camper striving for solitude then Whitecliff Bay probably isn't going to be for you. But what the park lacks in intimacy, it makes up for in facilities with a large outdoor and indoor-heated pools, a secluded sandy beach (with café), two restaurants and a supermarket store that sells all the essentials.
The Isle of Wight is only 23 miles by 13, and much of it is designated an 'Area of Outstanding Natural Beauty'. The east coast is lined with charming Victorian resorts (such as nearby Sandown), while the scenic west coast is less developed and home to the pretty port of Yarmouth and the Needles, pinnacles of chalk towering out of the sea. Perfect walking territory, the island is criss-crossed with 500 miles of footpaths. If you don't feel like tackling the 64-mile coastal path, then try the Tennyson Trail. Named after former Poet Laureate Alfred Lord Tennyson, this picturesque walk starts at Carisbrooke Castle and continues over Brightstone Down towards Alum Bay. Keep your eyes peeled for the "barrows" on Mottistone Down, a burial site that dates back 4,000 years.
Days certainly fly by on the Isle of Wight. Whichever way you turn you'll find spectacular views, a plethora of attractions and miles of untouched coastline. Back at Whitecliff Bay the evenings bring the good times too. Don't worry campers, no jazz hands here; the onsite entertainment includes artists from the West End and in the summer month's outdoor film screenings overlooking the bay. But if the 'holiday park' feel isn't to your taste? Well, just kick back, light up the BBQ and take in those countryside views. Fantastic.
Details
Facilities
Plenty of spaces for tents, 11 Canvas Cottages and 12 bell tents. 2 shower blocks and laundry facilities. Small shop (open during peak times), bar (with free WiFi). Guests have full access to use: the indoor and outdoor heated pools, club house, indoor soft playground, outdoor playground and sports lounge. Daytime activities include: archery, axe throwing, paintball, crossbow, 'footgolf', water confidence, pool snorkelling and more. Also sand pouring souvenirs, panning for gold, nature rangers badge making, balloon buddies, cookie decorating and more.
Suitable For
Tents, caravans, glampers, families, groups and dogs (max 2 per pitch) – yes. Hen and stag parties – no.
Nearby
Carisbrooke Castle (01983 523112), built in the 12th century is best known as the place where King Charles I was imprisoned: walk the castle walls or play bowls on the very green Charles used. Kids will love dressing up as Norman soldiers or Civil War troopers, and meeting the castle's famous donkeys, while grown-ups can take a stroll around the new Edwardian-style Princess Beatrice Garden. The English Heritage property Osborne House (01983 200022) offers the chance to visit a royal seaside palace in the style of an Italian Renaissance palazzo. Built in the 19th century for Queen Victoria & Prince Albert, you can take a glimpse into the family's life as you tour their private rooms. Go and explore some wildlife at Queen Victoria's private beach or at the fashionable garden. If you're interested in more exotic animals try the Isle of Wight Zoo (01983 403883) and Amazon World Zoo Park (01983 867122).
Food & Drink
Onsite dining options include Nab Bar & Restaurant that serves food throughout the day, Tuppeny Café offering homemade food, family-run service and postcard views, or, if you're in a rush, the Culver Diner serves convenient fast food including freshly-made pizzas, burgers and hot dogs. Away from Whitecliff, the Culver Downs Café provides simple home made goodies at a spectacular location, The Crab & Lobster Inn (01983 872244) was awarded 'Isle of Wight Dining Pub of the Year 2010' by the Good Pub Guide and God's Providence House (01983 522085) is a traditional tea room sourcing only local produce.
Opening Times
March – November (but some on-site accommodation available all year).
The Owner Says
Whitecliff Bay Holiday Park, is perfectly perched next to its own beautiful beach with easy access to everything that makes the Isle of Wight gorgeous.
Choose from a range of self-catered accommodation or find your perfect pitch. We have something for everyone to enjoy, young and old, couples, groups and families (including furry friends!). Whether you want a place to spend your entire holiday or a base from where you can explore the wonderful Isle of Wight. Away Resorts holidays are all about offering you the full spectrum of experiences to create special moments where everything comes together perfectly.
A dedicated park designed for Touring & Camping, perfectly set on a south facing gentle slope with some of the most stunning countryside views. An ideal setting to light up the BBQ and pop a cork, sit back and float away in total relaxation.
Pitches
400 pitches with a selection of grass, electric hook-ups and hard standing.
No availability showing at Whitecliff Bay.
Location
Contact Whitecliff Bay, Whitecliff Bay Holiday Park, Hillway Road, Bembridge, Isle of Wight PO35 5PL
Getting There
From Wightlink Fishbourne Terminal: head southwest on Fishbourne Lane towards Ranalagh Drive for 0.5 miles. Turn left at A3054/Elenors Grove and continue to follow the A3054. Go over one roundabout and turn left at Argyll Street. Slight right at B3330/Green St, continue to follow B3330 for 0.8 mile. Turn left at Alexandra Rd/B3330 and left again at B3330/High Park Rd. Turn right at A3055/Appley Rd then at the roundabout, take the 2nd exit onto A3055/Marlborough Road. Continue to follow A3055 and go over another roundabout. Turn left at B3395/Sandown Rd and continue to follow B3395 for 2.5 miles.
From Red Funnel Cowes Terminal: Head west on Town Quay toward High Street and turn left at High Street. High Street becomes B3325/Carvel Lane then turn left at B3325/Terminus Road, continuing to follow B3325. Turn left at Pl Road/B3325 and follow B3325 for 1.2 miles. Again, turn right at A3020/Newport Rd, then continue to follow the A3020 for 2.2 miles. At the roundabout, take the 2nd exit onto A3054/Medina Way then turn left at A3020/Snook's Hill. Continue to follow Snook's Hill for 100 metres, then turn right at Staplers Road, slight right at Long Lane for 1.1 miles. Continue on Longlane and at the roundabout, take the 3rd exit onto Downend Road. Turn left toward Bullys Hill for 2.5 miles, turn right at Bullys Hill for another 2.3 miles. Turn right at The Mall and then left at Lower Adgestone Road. Continue on B3395/Sandown Rd to follow B3395 for 2.5 miles.
From Ryde Pier Head Rail Station: walk about 12 mins to Ryde Bus Station. From Ryde Bus Station (East-Bound) take Southern Vectis Bus 8 and that will bring you straight to the campsite.
From Brading Rail Station: adjacent to Rowborough Cottages take Southern Vectis Bus 8 towards Sandown, Melville Street and get off at Whitecliff Bay Holiday Park.
Book campsites near Whitecliff Bay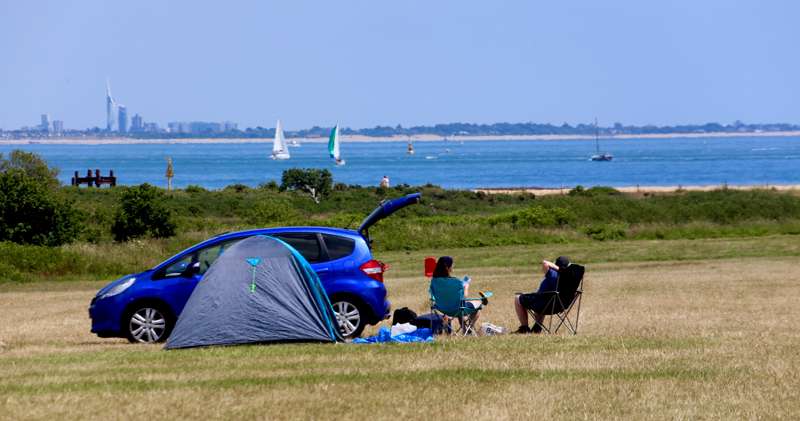 i
Campsites in Beaulieu
Campsites in Hampshire
Campsites in South East England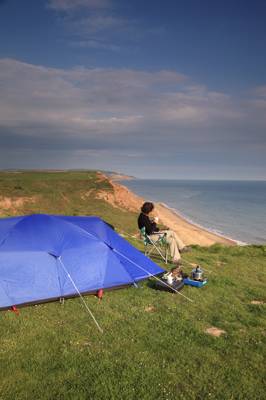 i
Campsites in Isle Of Wight
Campsites in South East England
Available:
226 Pitches
5 Pods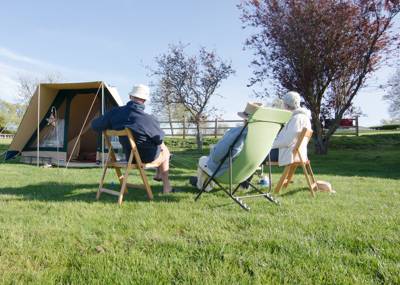 i
Campsites in Isle Of Wight
Campsites in South East England