Canal-side camping for adults on a rustic Oxfordshire pig farm
When Dean and Sara first moored their narrow boat here in 2007 it was a drastically different place. The land still sloped gently down to the canal-side, green and inviting, but otherwise it was little more than a simple cattle pasture, blotted with the odd molehill and a scattering of buttercups. Today, however, it has truly been transformed. It has become the sort of place you hear about several miles down the canal; a whisper between boating folk who feel they each share this local secret. Chug around the bend and the banks are now a manicured carpet of grass and decking, split into segments and dominated by pig pens, and duck and chicken coops. "STOP", the sign reads, "Farm Shop".
We don't need asking twice, though plodding along with a tent and sleeping bag it's not a mooring spot we're after. Welcoming campervans, caravans and the humble tenting camper, The Pig Place is open to all and it's signage sums up the general atmosphere. The focus here is not on plush camping pitches with power-showers and strings of wooden clad chalets, no, first and foremost this is a simple, yet delightful small holding and only after the animals, the farm shop and the mouth-wateringly good food van came the campsite.
The resulting ethos is fantastic. The camping is wonderfully rustic – there is one portable toilet and no showers on the site – but that certainly doesn't mean it is neglected, with Dean and Sarah always on hand and inviting you over when it's feeding time to join in and see the pigs. It's inclusive, but not overbearing, and their conscious decision to keep everything small-scale and low key, makes it a sociable and thoroughly relaxed place to pitch.
The food, of course, is an obvious selling point. Their farm shop, selling meat, free range eggs and veg, is truly enviable – though if you envy it too much you may end up buying a couple of hens to take home with you – and the cooking trailer (The Pig Stop) is opened up each morning to serve an unbeatable home-reared breakfast. It may just be a ploy. The wafting smell of bacon is so good you can imagine that somewhere, in a lock, several miles down canal, there are already folks on board their boat sniffing at the air and tracing their way in your direction!
Nearby, the town of Banbury has enough independent shops and restaurants to keep you busy and the immediacy of the M40 means seemingly far off towns like Oxford and Warwick are actually just 40 minutes or so away. The motorways ever presence in the landscape may be unmistakeable on the map but its treed flanks do a surprisingly good job of shielding any noise, leaving the Pig Place to retain its unmistakably rural charms.
Best Price Guarantee, with no fees
Instant booking confirmation
Trusted for over 10 years
A chance to win prizes in our regular competitions
Campsite Gallery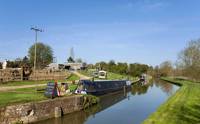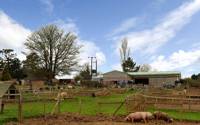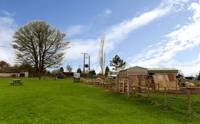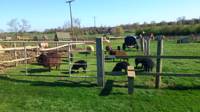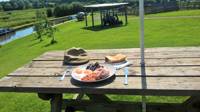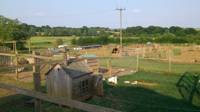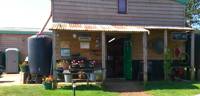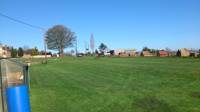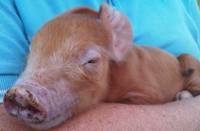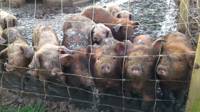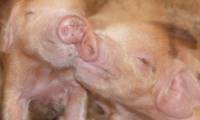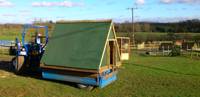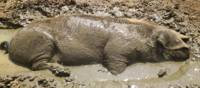 The campsite owner says
If we're your kind of place, we look forward to meeting you. Our camping areas are 'child-free' and cater for motorhomes, caravans, campervans and tents. Being canalside you're welcome to visit by narrowboat too.
Our breakfast is unrivalled. Fabulous food with a fantastic view over the Oxford Canal and Cherwell Valley - what's not to like?
Book campsites near The Pig Place Campsite