Knepp Wildland Safaris & Camping
Talk and squeak and squawk with the animals at this breathtakingly beautiful West Sussex conservation project – the largest of its kind in lowland Britain
It all started with a vision. The sprawling Knepp Estate – centred around a picturesque John Nash-designed castle – had been intensively farmed for arable and dairy for over fifty years. But with heavy Sussex clay not ideal for modern farming and Knepp struggling to survive, an ambitious new approach was needed. In 2000, owner Charlie Burrell turned his thoughts to ways of working with the land, rather than constantly battling against it and, inspired by conservation projects in Europe, hit upon the idea of using grazing animals to help return natural processes to the soil. In his words, 'We took our hands off the steering wheel, and let Nature take over'.
Now, over a decade later, the largest rewilding project in lowland Britain has transformed the Knepp Estate into a veritable Eden of biodiversity. Herds of free-roaming Exmoor ponies, Longhorn cattle, Tamworth pigs, and red and fallow deer rove the estate's 3,500 acres. Their different ways of grazing and selecting plants has stimulated a patchwork of interlinking natural habitats from wood pasture to water meadows, groves of willows and complex scrub. This unique environment is a magnet for nightingales, turtle doves, cuckoos and purple emperor butterflies.
The Knepp Wildland Project's expert ecologists offer a range of guided safaris around this sprawling site. So if you're batty about bats, or the bees get you buzzing, you can choose the tour that suits you best. Or if you'd prefer a more bespoke experience, the dedicated team here are happy to accommodate. What could be more awe-inspring than experiencing the wildlife up close? Camping here, that's what!
While the setting feels every bit as wildly exotic as the Serengeti, camping at the Knepp Estate is far from a primitive experience. There's a dizzying array of fabulous glamping abodes available, from shepherd's huts, yurts and bell tents of all shapes and sizes (think of it as wild camping, with a little 'w'). But we reckon for a true sense of getting back to nature, the off-grid camping pitches can't be beaten. And they allow campfires! And as for the key ingredients for that all important campsite barbecue, you can't get more free-range than the very livestock roaming this unspoilt, herbaceous hideaway, available to buy onsite.
Waking up to the sounds of nature is one of the great joys of camping. But the early-morning call of the resident beasts at Knepp Estate offers an added thrill – knowing that you're camping in one of the England's great mini-wildernesses, where nature reigns harmoniously.
Best Price Guarantee, with no fees
Instant booking confirmation
Trusted for over 10 years
A chance to win prizes in our regular competitions
Campsite Gallery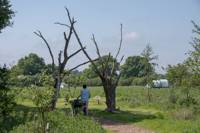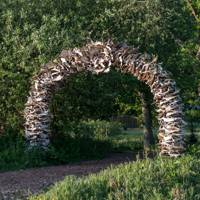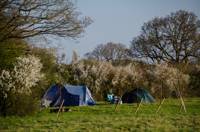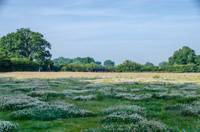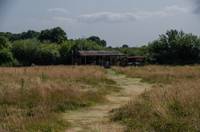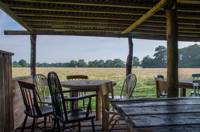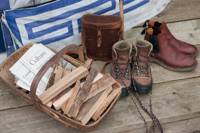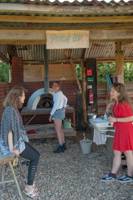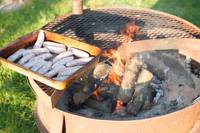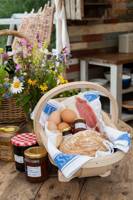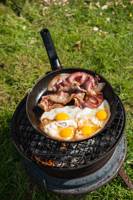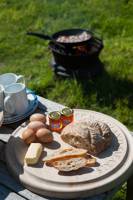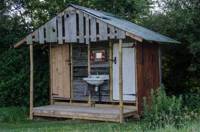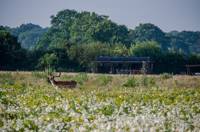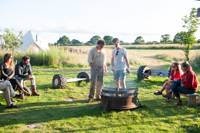 Video Tour
The campsite owner says
Knepp – one of the largest re-wilding projects in lowland Europe Encounter herds of wild ponies, cattle, deer and pigs as they roam 3,500 acres of Sussex, driving the forces of habitat regeneration. Join us on one of our vehicle-based safaris or guided walking tours and experience our profusion of birds, mammals, butterflies, beetles, reptiles, plants and fungi in a setting that feels as wild and dynamic as the African bush. 'Pitch your own' in our exclusive Wildland campsite. You don't have to take one of our safaris to stay here, and you don't have to stay here to take a safari – though naturally we hope you'll be tempted to combine the two. For reasons of safety and to ensure quiet observation of our wildlife we operate a 12yrs+ policy.
Book campsites near Knepp Wildland Safaris & Camping