Serene, green and no overcrowding. Even at full capacity you'll find just a handful of tents in each paddock.
In the eyes of the wild camping tribes, campsites are for softies. But wild camping with kids – well, it can just be a bit of a hassle. At the very least it's nice to know there's running water to deal with potty mishaps and stacks of dirty dishes. With its no frills, close-to-nature approach, Cerenety proves you can still enjoy the wilder side of camping on a regular campsite.
First and foremost, with the majority of the grassy fields left empty, even in the summer, across Cerenety's seven sprawling acres, there's plenty of space to run around like wild things. Every feature is as squeaky green as the surrounding countryside,from compost loos and solar panels to recycled materials ingeniously put to use in the site's rustic, efficient amenities. There's even a veggie patch and a permaculture forest garden, where you can pick your own and have a forage.
Children also flock to bottle-feed orphan lambs, and alpacas roam a few feet shy of the tents. Where nature rules and campfire smoke spirals lazily into dusky skies, it comes as a surprise that the surfer dudes, secret beaches and retro cafés of Bude are just a mile's easy stroll along the canal. So kids can get a seaside fix without you having to hunt down the car keys. Once they've hit the waves, gorged on ice cream, hired a pedalo or taken a dip in the tidal pool, you might even experience a rare moment of serenity when they rest their tired little heads back at camp.
Campsite Gallery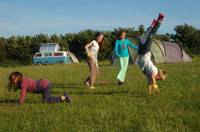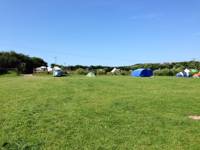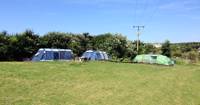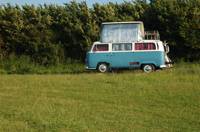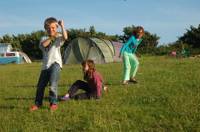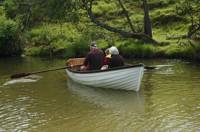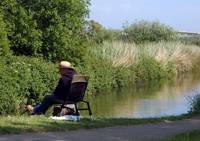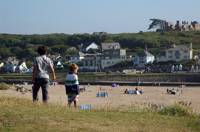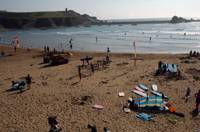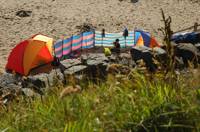 Best Price Guarantee, with no fees
Instant booking confirmation
Trusted for over 10 years
A chance to win prizes in our regular competitions
The campsite owner says
In a nut shell - Enjoy the Wilder Side of Camping.
Serene, green, eco camping set in seven acres of sprawling fields just a short stroll from the seaside.
Cerenety is peaceful, old fashioned, back to nature camping, where you can spend lazy days in the grass or playing cricket with the kids. Spend the morning surfing, delight in a relaxing afternoon picnic and while away long summer evenings watching camp fire smoke spiralling idly into the Cornish sky. Do all this whilst happy in the knowledge that your holiday is having a limited effect on the environment.
"Back to basics camping at it's best!"
Solar powered showers, compost toilets and wood burning fires allow you to indulge in an off-grid holiday in an area of outstanding natural beauty. Make friends with our rescue animals, meander down the canal into town or take a 5 minute wander down our country lanes to our local secret beach.
"...the ground you camp on is flat and as nobody will camp in front of you, your view is never restricted!"
'We have a tidy breakfast cafe selling crepes, teas and coffees. This is often run by genuine French people ;-) Open at weekends out of season and 6 days a week in season.
Around Cerenety
Cerenety Eco Campsite is only a 5 minute walk from the beach, 15 minutes from town and pubs and 2 minutes to the beautiful Bude Canal. Set in an Area of Outstanding Natural Beauty, we have many fantastic local beaches to suit families, dog walkers and explorers alike.The town of Bude has many great local cafes, restaurants and pubs. Bude has many locally owned boutiques selling a range of surf products, locally made crafts and creamy Cornish ice cream.
There are many easy day trip from Cerenety including areas such as the historic harbour village of Boscastle, the legendary King Arthur's Castle in Tintagel, the revolutionary Eden Project and the long forgotten Lost Gardens of Heligan.
Camping
At Cerenety we take all types of tents, small campervans, awnings and the odd gazebo. We pride ourselves in not overcrowding our camping fields and ensuring there's lots of space to run around, enjoy the view or to gather around a fire.
"Lively people, rescue animals too! Had a fab time, v special place, look fwd to next year."
We have a wide open field in the middle of the campsite for you to set up games of cricket, rounders or boules. Or simply to spread out a blanket and gaze at the sky.
Facilities
We have two good pressure, private showers, which are heated by solar panels. As is the nature of eco camping and the weather in the UK, hot water cannot be guaranteed all of the time, but it's usually pretty good. We also have three compost toilets, those who are new to them are usually pleasantly surprised.
"Don't be put off by the composting toilets - the facilities are cleaned everyday and the nature of using the toilet is like any other loo, except you throw sawdust down it rather than wasting water!"
Campfires
Relax in front of an open fire on a summer evening. We often have logs for sale at Cerenety and we have 2 dutch ovens for hire should you feel like cooking your dinner over the fire.
A 'pick your own' vegetable patch and permacutlure forest garden.
Here you can peruse our herbs, fruit and veg and pick some food for dinner for just a donation to our amazing volunteers. We've also put up some information should you want to try your hand at your own forest garden. We have a great range of vegetables and salad in our garden, depending on the season! Why not 'pick your own' and cook it over your fire?
Animal feeding time.
Weekends out of season and 6 days a week in season we do animal feeding time for the children (or adults). It changes depending on the time of year, but we usually feed the alpacas, milk the goat, collect the eggs, stroke the tortoise and pet the rabbit at least! If you let us know in advance we're happy to do this for your group at any time. In spring we're often bottle feeding orphan lambs too!
We have a pizza oven!
It's fairly ramshackle as it's made from pond clay and old red bricks that fell out of our old house, BUT it works. We sometimes spontaneously set up pizza nights where we light the oven and anyone can join in with their pizzas, but failing that anyone is welcome to use it. If you're not sure, just ask and we can give you some pointers.'
Caravan Cafe
Wake up to the smell of freshly made pancakes with a range of toppings. Tea and great fresh coffee is abundant. All on a donation basis. (Only certain times of year)
Workshops at Cerenety.
New for 2018 we are running some workshops as an experiment! So if you're interested in Yoga, Leatherwork, Bee keeping, Blacksmithing, Cornish stone walling, Herbal remedies and ointments or pottery, please send us a message and let us know.
Clay Pizza Oven
New in 2015, our clay pizza oven was build by our brilliant volunteers and is made entirely from clay found at Cerenety and recycled materials. It proved pretty popular in 2015 and with the addition of a solar light this year, it'll be even more user friendly.
Wildlife Pond
Both practical and beautiful, our pond filters our water and attracts native species. There is a picnic table and benches near-by for you to relax in the sun (hopefully).
Local Discounts
Cerenety has many friends around Bude, who offer our campers a discount. So whether it's a milkshake at Atlantic Diner, surf hire with Zuma Jay or a leather workshop with Rose Choules Atelier, take a look to see what offers they give to our campers.
Camp With Your Dog
There's nothing like taking your dog on holiday
Our Animals
We have many rescue animals at Cerenety and much of the money made from the campsite goes to creating a happy and healthy environment for them to live out their days.
So for more information on Cerenety's facilities, our animals, our volunteers or simply our ethos, please visit our website.
Please note your pitch price includes a space for you to bring a car
Best Price Guarantee, with no fees
Instant booking confirmation
Trusted for over 10 years
A chance to win prizes in our regular competitions
Book campsites near Cerenety Eco Camping