Book campsites near Sweet Meadows & Wild Woods Country Holidays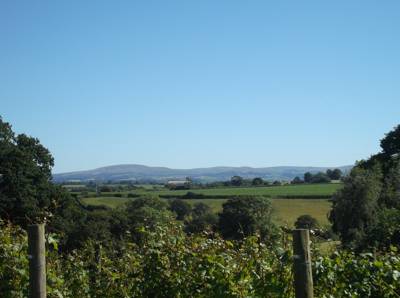 i
Campsites in Chulmleigh, Winkleigh & Umberleigh
Campsites in Devon
Campsites in South West England
Available:
6 Pitches
2 Bell tents
1 Safari tent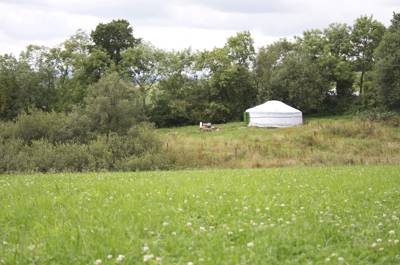 i
Glamping in Crediton
Glamping in Devon
Glamping in South West England
Available:
3 Yurt or Gers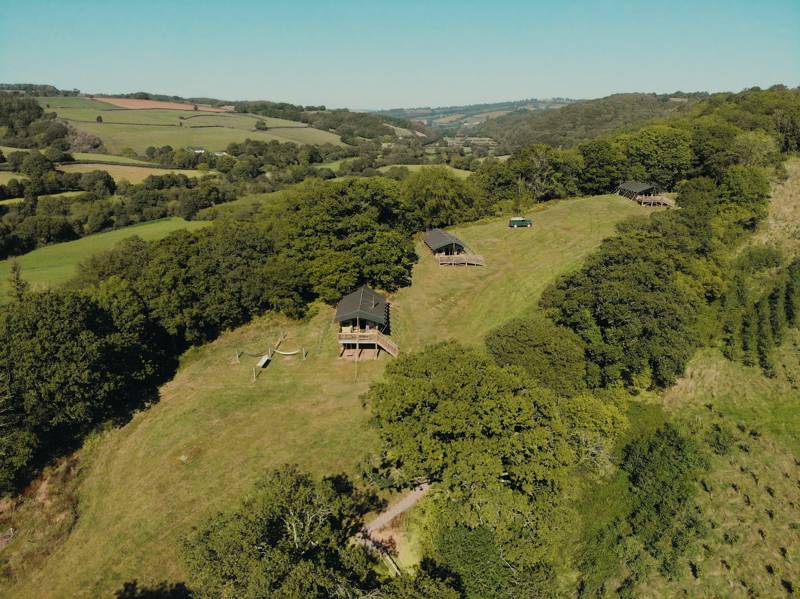 i
Glamping in Tiverton
Glamping in Devon
Glamping in South West England
Available:
3 Safari tents
Sweet Meadows & Wild Woods Country Holidays
A tiny garden campsite with bags of charm
If you're the type of person who first tried camping as a child, setting up a tent one sunny evening in your parents' back garden, then prepare for a trip down memory lane. For nowhere can match that experience quite like Sweet Meadows Campsite on the north-eastern edge of Dartmoor. Sliding past the corner of a family house, you have to brush aside flowers competing for space in order to make it on to the back lawn. It is here that the very best camping pitches are found, scattered around the elegant cast-aluminium table and chairs in the centre.
The garden pitches, crowded by colourful flowerbeds on either side, give way to a small field for camping on the other side of the hedge. It's a fantastic spot for small groups or those with larger tents. Beyond the main lawn, meanwhile, an arch in the hedge reveals a tree-swing and the wilder regions of the garden where less clearly defined pitches take on an altogether more rustic feel. Birds flitter along the hedgerows and wrens dart in and out of the house's thatched roof – the woods of the Teign Valley ensure there's plenty of wildlife around. Even the owners add to the proceedings, with a pair of Rum ponies grazing the adjacent meadow.
Back-garden camping isn't complete, of course, without a trip indoors to the bathroom and here that is precisely where the facilities are found. A homely downstairs toilet inside the house has a loo and shower for use and, though there is only one, an extra compost toilet out in the meadow helps cater for those desperately in need. The site is small enough that the single shower is easily enough to cope and if you want to go really wild you could always take a dip in the River Teign that runs nearby. It all adds to the rustic feel of this camping home from home and if it's a tiny site you're after, they don't come much cosier than Sweet Meadows. It's simple, back garden camping in the loveliest garden of them all.
Details
Facilities
1 toilet and a Scandinavian compost loo in woodland chalet. 1 Unisex shower. Use of our washing machine (£3+detergent). 2 swings and a see-saw. Tree shelter with awning, table and log stools. Pony-sitting by arrangement. Unfortunately, Flossie has passed away, but owners are hoping that Tobermory, young gelding will be ready to take her place soon. Campfires and BBQs permitted.
Suitable For
Tents, campervans, dogs – yes. Caravans and large motorhomes – no.
Nearby
It's 4½ miles to grand Castle Drogo (01647 433306), the last castle built in England (and by Edwin Lutyens to boot). It's now owned by the National Trust and well worth a visit.
Food & Drink
Head to the Royal Oak (01647 252256) 2½ miles away in Dunsford – a family-run country pub with a walled courtyard. Or you can opt to walk or cycle westwards along the River Teign to the Fingle Bridge Inn (01647 281287) in Drewsteignton (3 miles), with a beer garden right on the river.
Opening Times
All year.
Pitches
4 small garden pitches, tennis court pitches, and a choice of three 1 acre fields (according to season). 4 pitches in wild woods with stream.

No availability showing at Sweet Meadows & Wild Woods Country Holidays.
Location
Contact Sweet Meadows & Wild Woods Country Holidays, Clifford Bridge, Drewsteignton, Devon EX6 6QB
Getting There
On the M5 Motorway, travelling South West: At the end of Motorway signs, take the A30 dual carriageway towards Okehampton. Turn Left at the Cheriton Bishop turning, the second after leaving Exeter, about 12 miles out. On entering the village turn first Left at the Old Thatch Inn where there is an oak tree in the middle of the turning. (NOTE satnavs may take you on funny routes. Do NOT go to Drewsteignton). Proceed for about 1.5  miles, until you  come  to  a  cross road-Park Gate Cross, marked vertically on the sign. Ignore farm turnings it is cross roads you are looking for. Turn Right, signposted Clifford Bridge. Go down long hill: These roads are narrow, twisty and steep. Take care: Sound your horn before sharp corners, to avoid accidents and beware potholes. At the Cross Road near the bottom of the hill called Clifford Cross, marked vertically on the sign, turn Right. Sweet Meadows is 300 yards on the Right.
Train station: Crediton (9  miles) - Exeter to Barnstaple line (aka the Tarka Line). Take a taxi from here as there's no onward bus.
Reviews
Add Your Review
Rated ★★★★★ over 1 reviews
Fantastic Natural Campsite for Children and Adults
If you want your children to go off and explore safely ? Then this is the place for you. I really want to praise the hosts Wendy and Roger for their warm hospitality to us all. We hope to come back again. In fact I am a bit reluctant to share this campsite in case some one spoils it for others. Thank You !!!