Hole Station Adults Only Campsite
Hole Station is a firm favourite among the camping fraternity, which is hardly surprising given its secluded woodland pitches, campfire encouragement, and natural beauty
Situated on the land of a former railway station in a sparsely populated part of Devon, this adult-only hideaway is a truly special place. We first heard about it in 2009, and it quickly became a favourite among Cool Camping readers, and we're pleased to say that it has retained all its rustic charm – along with its secluded woodland pitches, campfires and natural beauty.
Whether you bring your own tent or opt for a pre-erected Rent-A-Tent here, you're going to love your pitch. There are just 19 of them, spread about the place in woodland clearings. Each pitch bears its own number and offers privacy within a magical tree-filled setting. Each has a tarp strung up to one side, allowing some added all-weather protection and creating the perfect space to set up your own bush-craft kitchen.
The owners Greg and Liz eventually bought Hole Station after keeping their eyes on the property for years. They live in what was the old ticket office while their kids are residents of a renovated old railway carriage next door (think Annie and Clarabel-style from Thomas The Tank Engine) next door. Together they are slowly bringing the wood back to its former forest glory by coppicing and pollarding, which they do in winter, after the last of the season's campers has packed up and gone home.
The cut-down wood is used to create wildlife habitats and fuel for campfires. So feel a little smug, as you sit mesmerised by the licking flames of your fire at night, that you're forming a symbiotic relationship with the trees all around you. In fact, the clearing you're pitched in is helping to shed more life-giving light on the young oaks nearby, enabling them to have a kick-start at growing into huge, majestic trees likely to outlive us for centuries to come.
It's not just the campfire culture, perfect pitches and woodland restoration that Liz, Greg and family have got right at Hole Station, though. The loos are of the compost variety and all rubbish (including food waste) is recycled or turned into compost wherever possible in order to give something back to this lovely corner of England.
Finally their resident pony Sanne is on hand to provide horse-and-trap rides and there are three goats – the preposterously named Dominar Rigel 16th, Kha'Dargo and Grace. Greg and Liz plan to relaunch their meadow as a centre for 'low-tech living' courses. Plus there's a signed Woodland Walk on which you half expect to encounter a fairy or two before reaching (handily labelled) The End – a top spot for watching the sunset. Evenings are peaceful wherever you are, with quiet time after 10pm.
So there you have it: Hole Station is as peaceful and bucolic as it gets, and about as refreshing and romantic a country getaway as you will find.
Campsite Gallery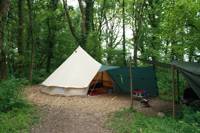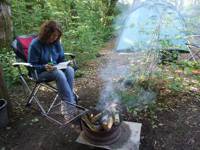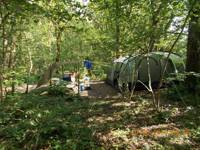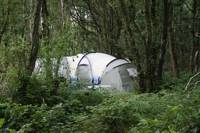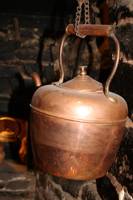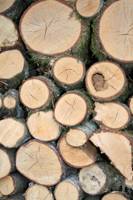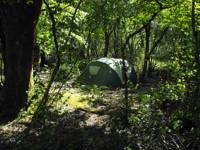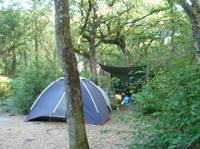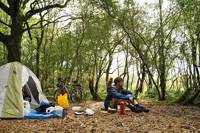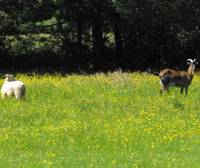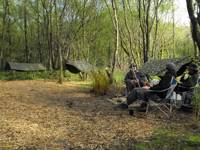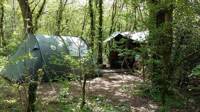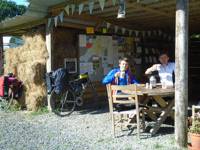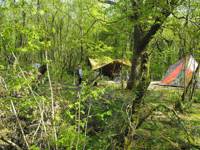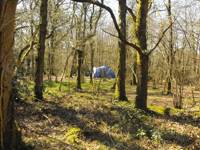 Best Price Guarantee, with no fees
Instant booking confirmation
Trusted for over 10 years
A chance to win prizes in our regular competitions
Video Tour
The campsite owner says
Camping at Hole Station is unique, pitches are sited in private clearings located in a natural deciduous woodland - it's about as far from camping in a field as you can get. The peace, quiet and privacy you enjoy here is quite the eye opener for those who have previously only camped on sites that are way more 'open plan'. 
You'll no longer be tripping over next doors guylines, or experiencing the joys of their kids playing football at 6am. You won't have to suffer the delights of car doors slamming all day and night and headlights providing that illumination in your tent that you so crave, others who are convinced their choice in music is what you want to hear 24 hours, or finding out what some shouty cockney is up to on Eastenders.
There are 24 pitches in 23 acres of woodland so at night, sat by your campfire, gazing up at the stars (no light pollution here) you could be forgiven for thinking you have the place all to yourselves.
Hole Station is also one of those rare places when mums and dads can have some grown up time together - no under 18's.
We offer two styles of camping.
The first is BYO which means you bring all your own gear. Every BYO pitch has it's own kitchen shelter, simple bench and  campfire pit. No two pitches are the same, and it's self selection so on arrival the first thing you do is have a wander and choose from those available. We charge per person which means you can put up awnings, hammocks, multiple tents etc. without being hit with a bill for extras.
The second is Rent-A-Tent. All you need to bring is your bedding, torches, matches and a toiletry kit. Everything else is provided including a large, fully equipped wooden open fronted kitchen/dining shelter and of course a tent. Your tent has plenty of stand up headroom with a wood floor, two bedrooms and airbeds included. Although you have gas cooking facilities provided, if you really don't want to cook then don't - we have an on site cafe for breakfasts and plenty of local pubs serving good food.
Please note this is
NOT OUR WEBSITE
, it is the Cool Camping directory and thus is only a summary of what we do. Please go to our website for complete information.
Check in times for BYO camping 1pm - 6pm, check out by 12 noon.
Check in times for Rent-A-Tent camping 6pm check out by 11am.
Best Price Guarantee, with no fees
Instant booking confirmation
Trusted for over 10 years
A chance to win prizes in our regular competitions
Book campsites near Hole Station Adults Only Campsite