Ready-pitched safari tents in Dartmoor National Park with the Somerset coast on the doorstep
It doesn't take Sherlock Holmes to work out why Minehead Campsite has become such a popular location over the years. Within the boundaries of Exmoor National Park, the surrounding open space and opportunities for long rambles, make the place a haven for walkers, mountain bikers and lovers of the great outdoors. Stroll a mile to the north, meanwhile, and you'll find not the vast natural wilderness of the moorlands, but, instead, the open sea of the Bristol Channel. The result is a campsite that brings landscapes and seascapes together in an outdoor package that, unsurprisingly, sees campers returning year on year. And now, you don't even need to pitch your tent.
It's only recently that the brand new Ready Camp safari tents have been added to a quiet corner of Minehead Campsite. These tents come fully furnished with the likes of double beds, dining room furniture, a deep, comfortable sofa and a kitchenette that includes a working fridge. There's plenty of storage and all the utensils are there so you can come straight in with a bag of Somerset spuds and a slab of local lamb, getting straight to work whipping up a storm. The tents offer a new sparkle to this well-established campsite, which has been run here by The Camping and Caravanning Club for years. They're an extra treat for those in need of a more hassle-free holiday.
The town of Minehead itself is just over a mile away, and though it's a quick drive, the walk there is particularly pleasant, especially if you begin by heading north towards the coast and picking up the renowned South West Coast Path. It's here in Minehead that the path begins, heading out along the waterfront towards Devon and on to Cornwall. It's one of the best ways to really soak in the undulating Exmoor coastline, though hopping aboard the West Somerset Steam Railway in town and gliding through Somerset's countryside is arguably the most laid back of scenery-soaking options. The quaint old rail line offers a wonderful ride back in time to the era of Sherlock himself. Steam puffs like Sherlock from his pipe and well-dressed train conductors clip your ticket as you board at the old fashioned station. What's not to love?
Campsite Gallery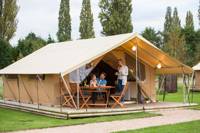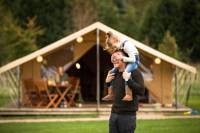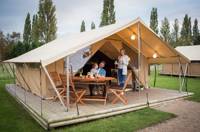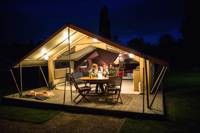 Best Price Guarantee, with no fees
Instant booking confirmation
Trusted for over 10 years
A chance to win prizes in our regular competitions
The campsite owner says
Your time spent…where it matters
Time away with family & friends is great, but let's be honest - it can sometimes be hectic to even think about!
Ready Camp takes away some of the stresses and hassles of camping - having a preerected, canvas-wrapped haven with real beds, a kitchen and dining area. There's no need to fill the car rammed to the rafters with an endless supply of 'just in cases'. We give you back the time to do the fun things together with your friends and family.
Pack your bedding & a sense of adventure
Walk into a comfortable haven with cosy furnishings and oodles of little luxuries. With two bedrooms, an open plan living/dining area where you can wine and dine to your hearts content or put your feet up on the comfy settee after a long day's adventure.
The Kitchen area includes a fridge, microwave and hob, along with basic cooking utensils, crockery and cutlery. (We've even supplied the corkscrew!)
When it comes to light's out…we've even included a torch for those midnight toilet trips, or just to make funny shadows on the tent!
Best Price Guarantee, with no fees
Instant booking confirmation
Trusted for over 10 years
A chance to win prizes in our regular competitions
Book campsites near Minehead (Ready Camp)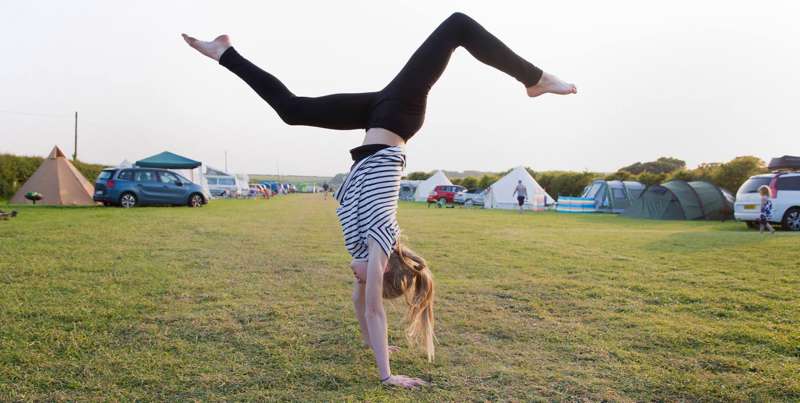 i
Campsites in Glamorgan
Campsites in South Wales
Campsites in Wales
Available:
2 Pitches
1 Bell tent
1 Cabin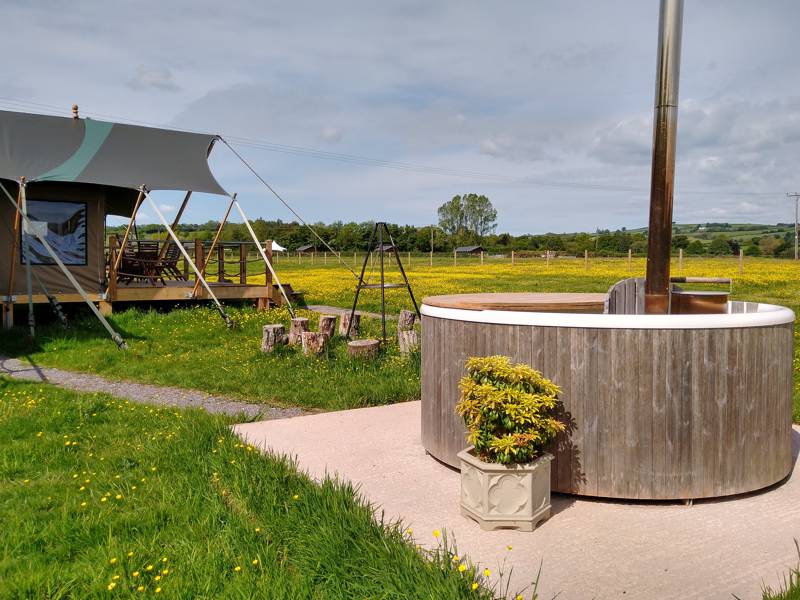 i
Glamping in Taunton
Glamping in Somerset
Glamping in South West England
Glamping in England
Available:
1 Cabin
6 Safari tents