Cotswolds Camping at Holycombe
Think Countryfile meets Time Team. Camping in six-acres of unspoiled Cotswold countryside, built in the grounds of a Norman castle.
The historic county of Warwickshire is geographically and culturally (as birthplace of the Bard) at the heart of England, boasting some of the country's most quintessentially English towns and villages. Unfortunately, for enthusiasts of the very British pastime of camping, it has tended to offer (Much ado about) nothing. The village of Whichford, however, is harbouring one of the county's best-kept camping secrets; but with its mash-up of the medieval, middle-eastern, and the mystical, Holycombe is unlikely to stay a secret for too long.
The six-acre site is built in the grounds of a Norman castle, the legacy of which is a splendid water-filled moat harbouring carp among the bulrushes. Local mystics have it that Holycombe was a sacred Neolithic site, evidenced by six converging ley lines, so it would have been a shame not to add a stone circle to venerate that unusual spiritual asset. The irony is that this rich heritage lay beneath a scrapyard until Sally and Andy Birtwell built their eco-home and holistic retreat centre, overlooked by an alternative campsite perfect for purists and – with a yurt, treehouse and a pair of furnished bell tents – part-timers.
Holycombe (taking its name from combe 'valley' and the nearby Holy Well spring) has a natural beauty to match its rich history, adjoining Whichford Wood (a wildlife-filled designated Site of Special Interest). It's also handily located a short walk from the Norman Knight, a classic Cotswold pub. So after a long ramble, or a pint up the road, you can light a campfire as dusk settles on the valley, and banter long into the night about whether ley lines really do exist, or ponder on what might be lurking at the bottom of that mysterious moat.
Campsite Gallery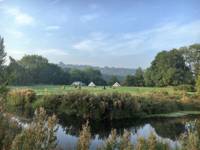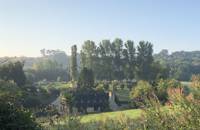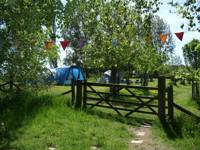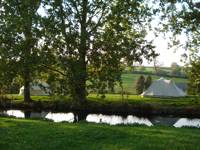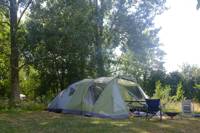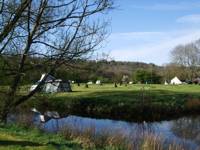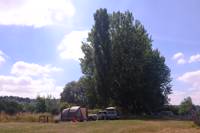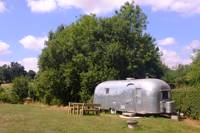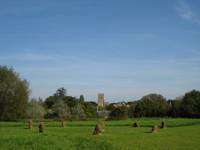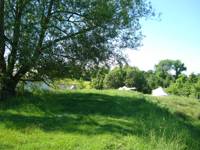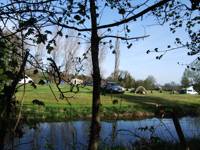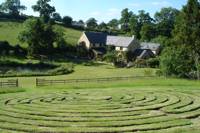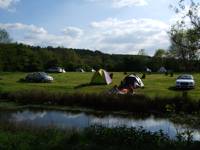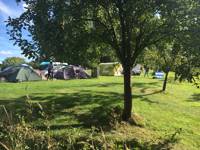 Best Price Guarantee, with no fees
Instant booking confirmation
Trusted for over 10 years
A chance to win prizes in our regular competitions
The campsite owner says
Cotswolds Camping at Holycombe, Whichford Castle Moat, is situated in the beautiful North Cotswold village of Whichford, near the Warwickshire, Oxfordshire, Gloucestershire and Worcestershire borders. We are in the Heart of England, in the middle of everywhere.
We would love to welcome you to our campsite, which is close to many beautiful Cotswold towns and villages. With plenty to explore in the vicinity, this is an excellent place to base yourselves on your camping adventure.Our beautiful five-acre camp site is situated where a Norman castle once stood, the legacy of which is the splendid water-filled moat, ducks, moor hens, and Canada geese. Before the Normans, we know there was a Roman settlement as  a Roman conduit leads from the wood to the moat. There was an excavation of the site in 1954 and a plan is in the camp kitchen.
Holycombe Holistic Retreat Centre and campsite  is situated adjacent to Whichford Wood. There is access through the public footpath which is opposite the church. We have a copy of the public footpath in the camping kitchen. The deer are being culled in the woods so please stick to the public footpath to avoid any mishaps. .
Bring your own tent (no minimum stay) or hire one of our structures: Yurt Yami, Gypsy Caravan Carmen, Airstream Ana or Bell Tents .
Camping Fees are £10.00 per adult per night, £5 per child (age 12-18 years only) per night. The camping fees include the space for your tent or van, and use of the camping kitchen, the hot showers and the compost/flush loos. There is no minimum number of nights stay for camping.
Glamping fees vary according to the structure you would like to hire. Airstream Ana has been completely rebuilt and renovated. It has a kitchen equipped with cooker, fridge, sink, kettle and many kitchen utensils/crockery. It has a double bed and a separate flush loo/basin. It has a wood burner too and a table, benches and firepit outside. Yurt Yami can sleep 4. It is centrally heated and comes with a log burner, futons, a rug and soft furnishings, as well as a sink with hot and cold running water, kettle and small hob. Gypsy Caravan Carmen has a cosy set up, with a wood burner and seats and it's own fire pit. Our 2 Bell Tents are up and running in the Summer months only. We supply bedding for our glampers.
You see photos and more info on our website www.cotswoldscamping.com where we also have a booking page where you can check availability and prices.
Best Price Guarantee, with no fees
Instant booking confirmation
Trusted for over 10 years
A chance to win prizes in our regular competitions
Book campsites near Cotswolds Camping at Holycombe