The welcome, the bread, the herbal bush showers, the roaming ducks and the beautiful rambling surroundings
Is there any part of Britain still unknown and undiscovered? Anywhere still anxiously awaiting (or dreading) a visit from its first tourist? Alas, probably not. But there are still a precious few hidden corners and secluded valleys in Scotland, free from any accommodation for the curious traveller. Ythan Valley was one such place, until David, Libby and daughter Iona decided to open a campsite in their meadow.
Despite it's rather Welsh-sounding name, Ythan Valley campsite really is Scottish, and can be found tucked away in a north-eastern corner of Aberdeenshire. This undisturbed part of Scotland can't compete with the Highlands for dramatic scenery, and thus there are fewer tourists. Those who do venture here tend to hug the coastal margins rather than stray inland where, in places such as Ythan Valley, visitors are usually limited to day-trippers.
But things have started to change since these five pitches at Smithfield Croft appeared, along with four beds in the onsite lodge. The campsite is tucked behind the croft on the edge of the small hamlet of Ythanbank, and from here the lucky and exclusively small number of campers can wander as lonely as clouds in the empty – but not bleak – surroundings.
Camping here is a comfortable experience indeed, and the welcome extraordinarily warm and friendly. You get the impression that the campsite staff (the family) are really, at heart, doing this for the fun of it and to share their rural backwater with new folk. This ethos extends to the slightly theatrical, converted coal shed, now a quirky campers' Wash House.
But that isn't all they do here to make you feel at home, for Libby does B&B, but not in the traditional sense; here it's 'bread and breakfast'. The early morning sustenance they rustle up is varied and delicious and can even be delivered to your tent if you so wish: full Scottish or veggie breakfasts, bacon butties, eggs-however and the speciality of the house – toast – or, more accurately, Libby's toasted freshly baked bread. It's little wonder then that the eminent folk at Aberdeen City & Shire awarded Ythan Valley the prestigious Best Holiday Accommodation in their annual tourism awards in 2015.
Campers can order a fresh loaf every day in a bewildering variety of seed mixtures and flavours including granary; pumpkin & sunflower seeds; chickpea, coriander & cumin; cinnamon & raisin; onion & rosemary or just a plain white or brown loaf. You can even invent your own recipe. So be sure to ditch the diet before you come here.
All this talk of being in the back of beyond, while it feels true enough on the spot, may not be wholly accurate. For instance, if 'one' has a weakness for stately homes, Haddo House and Fyvie Castle are an easy drive or cycle away. Both boast landscaped gardens and rambling country parks with woodland and lakeside walks, ideal for working off all that baked breakfast goodness.
The nearest settlement, Ellon, is four miles away and if campers still feel the need for the big city, the local urban madhouse that is Aberdeen lies just over 20 miles away. This may seem like a long way in England, but up here, in the wider world, it's positively local.
But with the welcome, space, tranquillity and completely unspoilt nature of the countryside on hand at Ythan Valley, it's tempting to just stay put and maybe tuck into a little more of that bread.
Details
Facilities
Good facilities in the new quirky wash house with toilets, shower and washing up sink.
Suitable For
Nearby
Food & Drink
The Tolbooth (01358 721308) in Ellon is a traditional pub with a big selection of malt whiskies and no food to distract from the fine Scotch flavours. The Redgarth (01651 872353) at Oldmeldrum has been CAMRA's Regional Pub of the Year numerous times, and serves good food; it's very popular with locals and campers alike.
Opening Times
Easter (April) to September.
The Owner Says
Tucked away in the tranquil Ythan Valley, surrounded by rolling farm land and beautifully 'large' skies, we are a tent-campers retreat.
With half the rainfall of western Scotland and no midges (yaay!!), our little site has been deemed one of Scotland's hidden secrets and has cheerfully been awarded Best Holiday Accommodation in the north of Scotland.
You are guaranteed a warm welcome at our small hideaway site, and to ensure that a quiet relaxing atmosphere is preserved we limit the number of pitches to just a handful. A peaceful environment for everyone's relaxation is paramount, therefore advance booking is essential to ensure there is a space for you :0)
We also have a couple of private hide-away pitches... a wee bit of seclusion... your own winding path & a stream to paddle your toes in!  'A little bit extra on the pitch fee but soooooo worth it' !
For those wanting to partake of Libby's (now famous!) breakfasts be sure to check with her, because some days she is away early, helping out at a couple of local National Trust properties.
From the Visitors' Book:
"Thanks for such a wonderful experience – from toasting marshmallows to watching the ducks in their washing up bowls! Obviously a campsite made by campers, although this is much more than just a campsite. We loved it."
"A successful first camping experience…will be hard to beat"
"The peace was wonderful, and the bread delicious. Thank you for a beautiful escape from the rush of everyday life. Perfect!"
"An amazing spot for star gazing"
"Bacon sandwiches to be recommended"
"The perfect place to camp – the kind of place one dreams of finding!"
"It's a lovely change from all the commercial sites – fantastic views!"
"The breakfast was amazing"
"This is not camping! It's more like you set your tent in the garden of some old friends"
"This place makes my heart sing"
"We have cycled 3,500 miles this summer through Europe & UK…. this is absolutely the best campsite we've ever had… campers heaven!"
Pitches
Only a few tents and a few people at a time so pitch numbers are limited. Worth calling ahead to book.
No availability showing at Ythan Valley Campsite .
Location
Contact Ythan Valley Campsite , Smithfield, Ythanbank, Nr Ellon, Aberdeenshire AB41 7TH
Getting There
Follow the A90 north from Aberdeen for 15 miles, then left on to the B9005 through Ellon. Continue along the road (including a right turn) to Ythanbank, go straight on into the village (ignoring where the main road turns left), then right into the first narrow lane sign-posted to Schivas, and then immediatley right into Smithfield's long drive. There's a regular and frequent bus service from Aberdeen to Ellon, from where there's an infrequent bus service to Ythanbank. Check times with
Traveline
(
08712 002233
). (Ythanbank is approx. 4 miles from Ellon)
Book campsites near Ythan Valley Campsite
Available:
1 Pitch
1 Shepherd's hut
1 Bell tent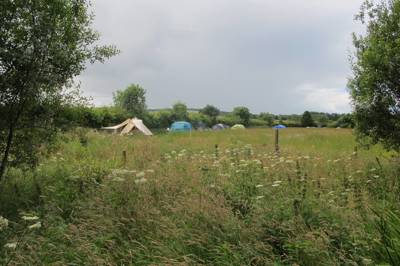 i
Campsites in Angus
Campsites in East Scotland
Available:
4 Pitches
1 Bell tent