Where the end of the road is the start of your adventure
How does it feel to get to the end of a track that's eight miles from the nearest main road, in a remote corner of north-west Scotland? That's a question that Badrallach's owners, Owen and Christy, have put a great deal of thought and effort into answering.
To start with, if you've come this far, there's a pretty good chance you'll be aiming to get away from it all – including other people. So there are individual camping pitches hidden away between bushes and rowan thicket. A web of little paths and bridges that will have younger campers playing hide-and-seek for hours allows you to navigate between them, while firepits – the best places to sit, rest and simply gaze at the amazing scenery – are duly provided at every pitch
Around the campsite, mountains rise into the north and east. Venture out and you may well return wet/muddy/sweaty/all three in the course of a day, so you want showers that do more than tickle and tease. The loo block itself may be in an old farm building, but it is still one of the brightest and most welcoming washing facilities we've seen. And finally, since this part of the world is the haunt of the mischievous highland midge, Badrallach Campsite boasts a hearty stock of midge repellents, nets and hats, plus it offers yet more encouragement to light that evening campfire.
Nature has also laid on a smorgasbord of adventures for you to savour. Sit at Badrallach for any length of time and you'll become fascinated by mighty An Teallach, the mountain that sits over the loch, hunching its shoulders and glowering. If you do climb this splendid hill, remember it is one of the most precipitous ridges of any mountain in Britain and you should be fully prepared (in mind as well as body). If you fancy a more casual wander, there are paths running directly from the campsite along the foreshore and up to Beinn Ghobhlach, the hill behind the site.
The campsite also looks over Little Loch Broom, which is reached by a short path. If you are a paddle-fanatic you'll find the crinkled coastline fascinating to explore by kayak, and site warden Chris Davidson – a Highlander who's been scouring this coast his whole life – is happy to lend advice if you've laden your car with fishing tackle too. A little further along the coast is Scoraig, one of the most remote communities in Britain, which is only accessible by boat or a five-mile walk. Kayaking there takes a little while, but that's just the kind of thing you'll have time for.
Indeed a slower pace of life is just the appeal of this part of Scotland. It's certainly something that Owen loves about the place. A qualified botanist, herbalist and wilderness therapist, he has recently begun running nature-oriented workshops at the campsite, incorporating herbal medicine, stress-management and creative approaches such as music, art and writing. And, whether you come here to partake in soothing stress-relief or simply want a loch-side tent pitch, once you've been at Badrallach for a few days you, too, will settle into a new rhythm of existing. Time drifts here and pulls you along with it. So when you're finally packing up, you'll find yourself asking a very different question – how will it feel when you return to the world at the end of the road eight miles away?
Best Price Guarantee, with no fees
Instant booking confirmation
Trusted for over 10 years
A chance to win prizes in our regular competitions
Campsite Gallery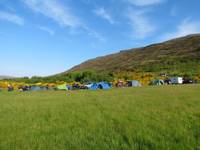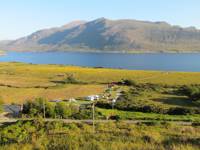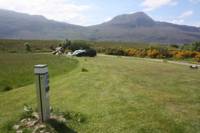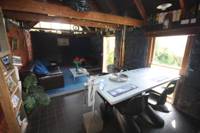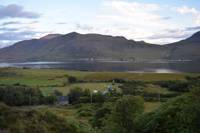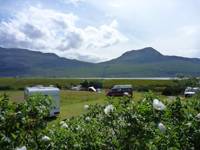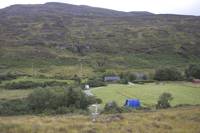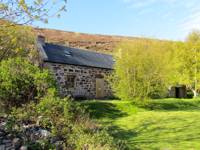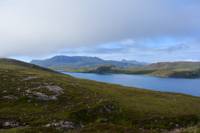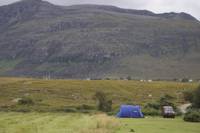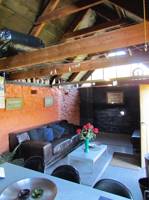 Video Tour
The campsite owner says
We are a remote Highland campsite, complete with holiday cottage and a simple bunkhouse that comfortably sleeps 12. If the weather or midges are terrible then the bunkhouse (we call it the bothy) is there to help you escape – often this is best with a dram on front of our wood-burning stove. We have toilet and shower facilities better than many larger campsites and different types of pitches for different tastes – either hide in the gorse or stay out in the open. We've even got four electric hook-ups!
You'll find some of the most stunning scenery in Britain here, be it the spectacular mountains, the ever-changing coastal weather painting dramatic colours everywhere, or the incredible diversity of wildlife, which, sadly, is rarely seen elsewhere in the UK. Little Loch Broom (it's not that little) is the sea loch we are situated upon and it is part of a wider MPA (marine protected area) for the unique life that resides within it. There are excellent boating opportunities on the loch on calmer days, and also opportunities for recreational fishing around the entire coast – just ask Chris the campsite attendant for some local, rugged Highlander knowledge. There is much to be made of the hill-walking (especially the foreboding yet beautiful An Teallach), fat-biking, trail running, hill-loch fishing with the small chance of ferox or arctic char (which we ask you to return as these are genetically distinct and isolated populations). It's also a very popular stop-off point for NC-500 travellers.
Our price range is lower than that of any managed campsite we know of and you'll find an abundance of peace and quiet whilst you're here.
From EarthMind Fellowship CIC: At various points in the year we can provide a variety of workshops for exploring nature, both inner and outer, incorporating herbal medicine and nutrition, health and wellness, stress-management, HeartMath, Wilderness Therapy and creative approaches such as dance, music, art and writing. If you would like to know more please contact Owen Okie at emf@earthmindfellowship.org.