That view… (sigh)
Nothing can prepare you for the view at Cleadale. Admittedly, the journey here does a good job of warming you up – especially if you see dolphins, minke whales or an orca on the ferry over. And the island of Eigg itself gets ever more spectacular as you approach, with its serried banks of sheer cliffs and the insolent snub nose of An Sgurr towering over the harbour. Any geologists on your boat will be in heaven; birdwatchers may well be spontaneously combusting. But it's only when the local minibus rattles its way up and over the ludicrous ribbon of tarmac that passes for a road on the island and drops you down into the cluster of crofts in the northern corner that you really get it.
First you look seawards. Ah, you think, look at that – a sweep of green land, a white sand beach, a shining Hebridean sound and the jagged crown of the cuillin of Rum. JRR Tolkien holidayed here, and you can bet he had Rum in mind when he imagined the Misty Mountain. It's amazing. Then you heft your bag and turn to look at the campsite – and realise you will be staying at the bottom of a vast and curving cliff, an amphitheatre tiered infinitely steeply as if for the sole purpose of giving the eagles a braw place from which to observe the sunset.
 The campsite itself is as wild and wonderful as its setting. The pitches aren't the flattest and the dishwashing sink is outdoors. But if you're the kind of person who likes watching buzzards coast from the cliffs as you wash the pasta from your plate, you'll love the view at Cleadale.
Campsite Gallery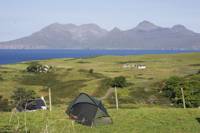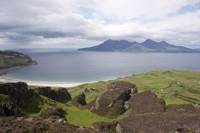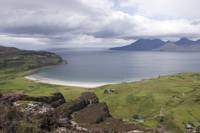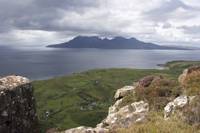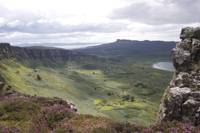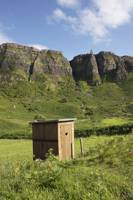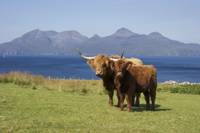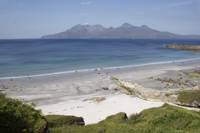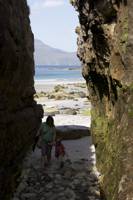 The campsite owner says
The campsite in Cleadale is the only designated camping area on Eigg. Campers choose their own site in a field looking west over the Atlantic Ocean towards the Isle of Rum and Outer Hebrides with spectacular views and the opportunity of beautiful sunsets.
Best Price Guarantee, with no fees
Instant booking confirmation
Trusted for over 10 years
A chance to win camping goodies in our regular competitions!