Riverside camping and glamping on the edge of the River Wye where nature abounds
It's not clear whether it would be quicker to walk or to canoe to Hay-on-Wye. Both are possible from Racquety Farm and, just a few hundred metres from the edge of town, it takes a matter of minutes until you're perched on a chair outside a tea shop, cuppa in hand, watching the world go by. As campsites go, few can manage such a supreme combination of tourist-town proximity and remote, countryside feel. Pitch your tent beside the bushy hedgerows and you seem hidden in the verdant Welsh wilderness. Walk across the meadows into town, however, and you're suddenly in the bustling hive that is Hay-on-Wye in summertime.
Racquety Farm is quite the enterprise. A mix of woodland, orchards, organic crops and grazed pastures, the farm is situated directly on the banks of the River Wye – its banks are a designated Site of Special Scientific Interest. The result is a conscientious campsite, with plenty of recycling, composting toilets and no caravans or large motorhomes allowed. The farm is all organic and one acre is even used for the Hayfield Community Garden, a local food-growing and gardening scheme set up by the people of Hay-on-Wye.
The camping, though basic, is idyllic. It comes in the form of roughly 60 undesignated pitches. Some are spread around the orchard where old and young apple trees bulge with fruit in late summer, while others are in a larger, slightly sloping meadow with views of Hay-on-Wye rooftops. There are relatively simple hot-water shacks where you can do your washing up, brush teeth or take a shower and braziers are available to rent for that essential evening campfire.
Pampered types will find glamping options here too. There are five geo-domes in total, though each is a different size, ranging from a four-metre dome for a couple to a ginormous six and a half metre dome that can sleep up to eight people. Each was homemade by Geoff himself and are furnished simply but practically to create warmth and comfort for most weather conditions. Carpets, beds and bedding, wooden furnishings and electric lighting are all included. Most importantly, there's also a cosy wood-burning stove.
Such pleasantries shouldn't distract from the real appeal of Racquety Farm though. Take a morning stroll through dewy grass to the riverside and you'll be reminded why you booked your stay here. Kingfishers and herons can be spotted by the quietest campers and otters are known to frequent the area – notoriously reclusive but occasionally seen. Badgers, hedgehogs, red kites, woodpeckers, dormice, bats and owls also live in the area and a canoe trip on the water reveals plenty more wildlife too. Ros' son runs a well-known canoe hire company from the campsite – 'Want to Canoe?' – and you can launch your own canoes directly from the farm. 'Want to Canoe?' can arrange longer canoe trips too, starting upstream in Glasbury-on-Wye. Multi day outings are highly recommended, partly for the full experience of the river and partly to give you more time in the canoe. The River Wye has popular wild swimming sites just a short walk from Racquety Farm or stick to
terra ferma
and wander into Hay-on-Wye. The town is just moments away and that café cuppa awaits.
Campsite Gallery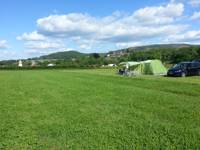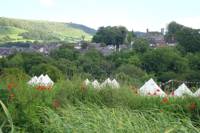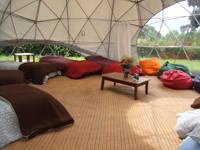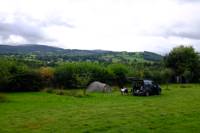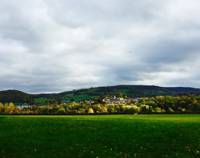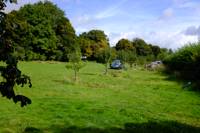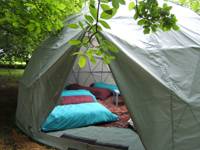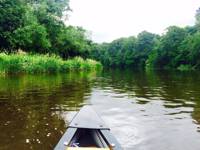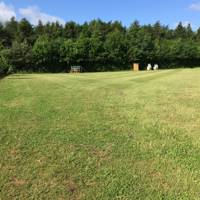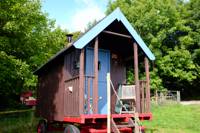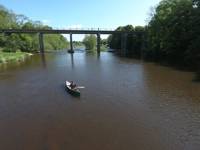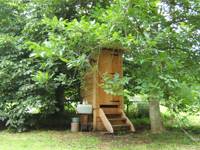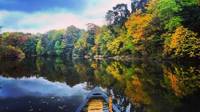 The campsite owner says
** Now taking bookings for the Hay Festival of Literature and the Arts (24 May–3 June 2018). **
The views from Racquety Farm are excellent and although you will be in the countryside, the campsite is only a short walk from the charming town centre of Hay. The site boasts private access to the nearby River Wye with exclusive rights for game and coarse fishing and a canoe launch/landing point. There's a canoe hire company sited a short walk from the site, whilst fresh, seasonal fruit and veg is often available to buy as well as basic supplies like tea, coffee, sugar, milk, bacon and eggs. This 60-pitch campsite is a 'Soil Association' certificated organic farm comprised of arable pasture, orchards and woodland and the sites tranquil river bank is an SSSI (Site of Special Scientific Interest).
Best Price Guarantee, with no fees
Instant booking confirmation
Trusted for 10 years
A chance to win camping goodies in our regular competitions!
Book campsites near Racquety Farm