Wild flowers, wild woodland and ample wildlife-friendly facilities in this 10-acre tract of off grid camping space
'Wild place'. That's what the Welsh word Cynefin means and it's abundantly clear when you arrive at this 10-acre smallholding that preserving a sense of wilderness is at the heart of everything owners Kay and Judith do. Half covered with hazel, rowan, willow and Welsh oak trees, the partially wooded space is a campsite designed for a multitude of species. Bird boxes perch among the trees; honeysuckle, dog-rose and bramble shelter dormouse boxes and, at dusk, barn owls silently explore the starry sky above the wildflower meadow where campers pitch their tents. It's a place of harmony and natural tranquillity – a 'habitat' (another meaning of Cynefin) for campers and creatures alike.
"While out for a walk seven years ago we came across a 'land for sale' sign on an old broken gate," Kay tells us. "Being inquisitive, we climbed over to investigate. Before we'd got half way down the concrete path we'd decided that we just had to buy the place".
Since then, the couple have crafted a real off-grid camping sanctuary. To preserve the natural biodiversity, there is a maximum of just six tents at the campsite, including the two pre-pitched bell tents and a tipi that are already there, so space is never an issue. Solar-powered lanterns provide the only artificial lighting, the piping-hot shower is driven by bottled gas and toilets are of the composting variety. Certainly don't come expecting Wi-Fi. Instead, rummage in the resource box filled with books and charts to help you identify the resident birds and bugs, or use the bat detector to listen to the distinctive clicking of their echo-location at dusk.
It's not all about the animals at Cynefin Eco Camping though. An area in the woods has been specifically laid aside for children to set up shelters and make dens and swings, while pathways have been mown between the camping pitches in the wildflower meadow so that you don't get dewy trousers every time you wander to the loo. Those staying in the bell tents and tipi also have access to use a well-equipped kitchen shelter and all campers are provided with campfire-pits with a grill and pan to use.
Three miles away, the ancient fishing village of Burry Port has hung up its trawling nets in favour of leisure boats, which now populate the marina-style harbour. It was here that Amelia Earhart completed the first trans-Atlantic flight by a woman in June 1928 (commemorated today with a plaque in the harbour), soaring in over what is now the Pembrey Country Park. Bring a picnic to make the most of the vast 500-acre parkland or bikes so that you can take to the Millennium Coastal Path that follows the waterfront. The eight-mile-long beach there is backed by sand dunes that are a wonder to explore for kids, forming just one of the many seaside attractions that this part of Carmarthen Bay affords.
Campsite Gallery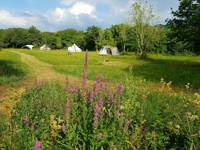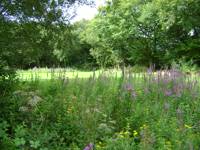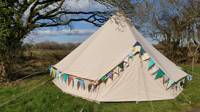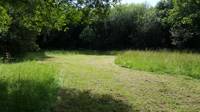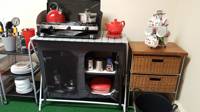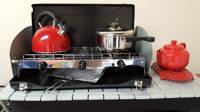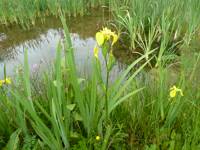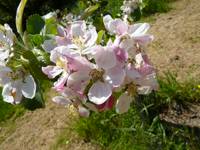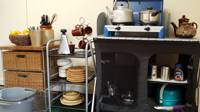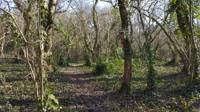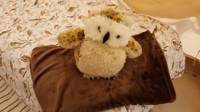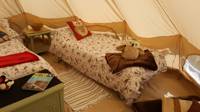 The campsite owner says
Are you looking for an environmentally friendly camping experience? Do you want to escape the stresses of modern day life and enjoy the peace and tranquillity of our woodland site? You might just have found your next perfect holiday!
Cynefin is our 10 acre smallholding which we manage to preserve the wildlife and biodiversity. When we bought the property seven years ago it was part of a larger farm and we had to re-register the land and give it a new name. Cynefin is a Welsh word that means 'habitat' or 'wild place' which sort of fits the bill! We also noticed it on a list for 'untranslatable' Welsh words, where it defined the meaning as 'a place where a person or an animal feels it ought to live'. We thought this fitted our dream really well.
This year we have:
 2 fully equipped bell tents which are sited in our small meadow, away from the main camping meadow.  This will allow you to have plenty of space but will ensure you have your own private area within the campsite.  All you need to do is drive up and move in and relax.
A 5 metre tipi set up in the corner of our main camp field with its own private kitchen A-frame shelter with all the camp equipment you will need to make some super outdoor food.  The tipi can fit 4 or 5 blow up beds for a group of friends or a family wanting some real camp experience.  We provided everything apart from pillows and sleeping bags.
6 camp pitches located in the wild flower meadows with plenty of space to relax where you can bring all your own equipment.
Best Price Guarantee, with no fees
Instant booking confirmation
Trusted for over 10 years
A chance to win camping goodies in our regular competitions!
Book campsites near Cynefin Eco Camping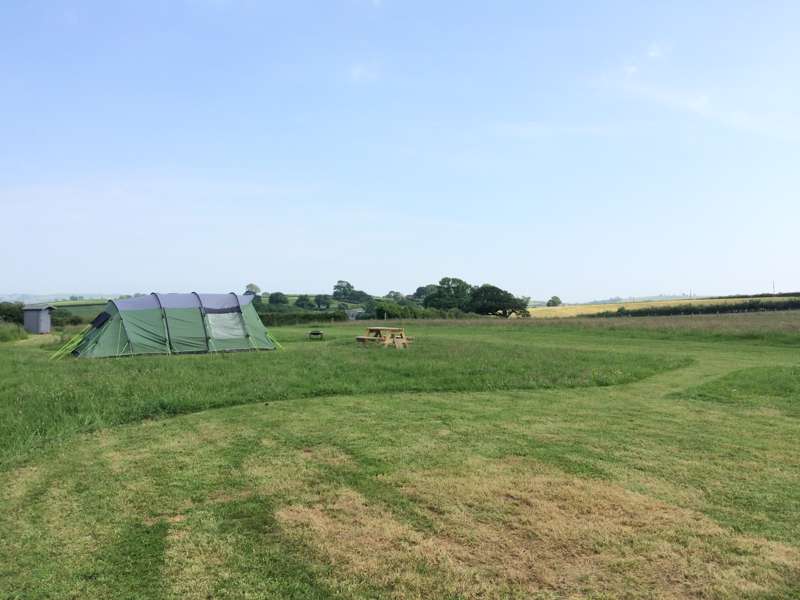 i
Campsites in Carmarthenshire
Campsites in South Wales
Campsites in Wales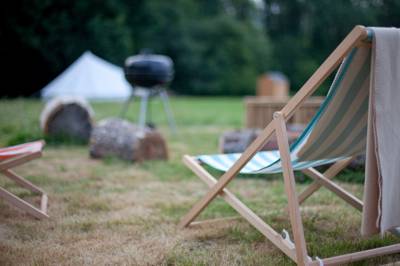 i
Campsites in Carmarthenshire
Campsites in South Wales
Campsites in Wales
Available:
1 Bell tent
1 Tipi
1 Yurt or Ger