Natural heaven. This is one of the most relaxing and beautifully isolated glamping sites in central France.
Deep in the heart of the protected Parc Naturel Régional Livradois Forez, hidden from view up the pine-clad slopes of Laval-sur-Doulon, Camping Auvergne Naturelle is earthy and magical. The sound of the babbling brook at the bottom of the wild-flower meadow here conspires with birdsong and wind chimes to create a symphony of peace.
Imagine leaving the majesty of your Genghis Khan yurt in the brilliant-blue dawn to gaze down the valley, birds of prey circling overhead. This campsite is truly off the beaten track, in the same region as the famed 18th-century Beast of Gévaudan; a wolf-like creature of the forests that claimed over 100 lives.
With its alpine feel, the area reminds one more of Switzerland than France. A campfire burns throughout the night, inviting story-telling and bread-making for nocturnal kids, plus the chance for you to get to know your fellow guests. That's easily done, for though the site has its own natural forest and is anything but small, the facilities themselves are within close proximity of one another. They include a funky wood shower block, which has been designed to maximise the mountain view; between soaping yourself down you can look out of the open-slat shower on to the woods beyond, as if you're in a Herbal Essences ad.
The kids love it here, perhaps because the owners have their own child and set about enriching the site with as many child-friendly enchantments as they could think of. For a start there are child-only trails; one such route leads into a little glade strung with bells, hammocks, and fairies. (Your kids can even email the fairies on return to the UK.) Children particularly love whittling their own walking sticks in the morning bushcraft sessions and they can also learn how to build a fire. For the adults, there are a few colourful pastimes to throw yourself into on site, from yoga to axe-throwing. The days stretch out lazily here. After your morning croissant and café au lait, you'll feel those wildman genes firing up so that apart from exploring the forest and surrounding meadows for the Beast of Gévaudan you might want to have a crack at exploring your inner bushman, along with the kids. There are courses for both age groups.
The yurts themselves, of which there are four, have been subtly positioned to create maximum privacy and give you the finest views. Inside they look like a summer shoot from an edition of Homes & Gardens, with cream throws, wood floors, fresh wild flowers, and rustic furniture.
And did we mention the owners? Rob and Kathryn, a young couple from Manchester, make for perfect hosts: he's a joiner by trade who also studied bushcraft under Ray Mears, while Kathryn turns her eye for detail to the interiors of the yurts, and is also a great cook.
The communal barn, charmingly tumbledown, is magical, with fairy lights, candles, and a huge beamed ceiling and long dining table, giving it the impression of aViking longhouse. The space also doubles as a playroom for kids on stormy days – there are creative materials and stacks of board games to have a go at. The self-catering kitchen and fridge are also here. A favourite aspect of this place, apart from the wonderful continental breakfasts, comfy yurts, killer views, and soporific pace of life, is the owners themselves and all the thought they put into ensuring that their guests never forget their stay here. Camping Auvergne Naturelle is intimate, amazing value for money, and destined to become one of the best sites in France for making your great escape to.
Best Price Guarantee, with no fees
Instant booking confirmation
Trusted for over 10 years
A chance to win prizes in our regular competitions
Campsite Gallery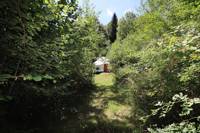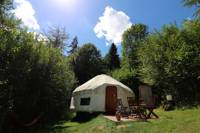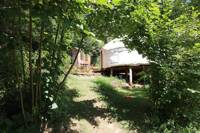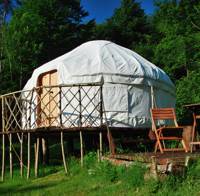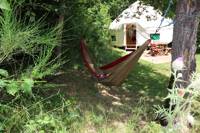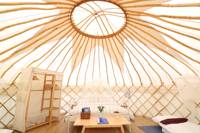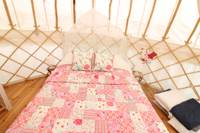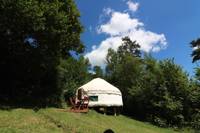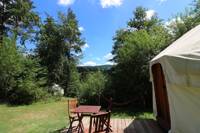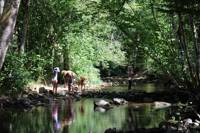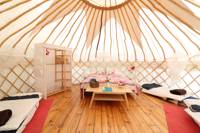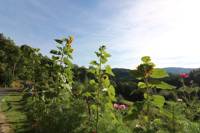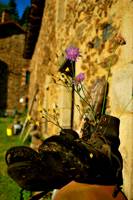 The campsite owner says
Luxury Yurt heaven. This is one of the most relaxing and beautifully isolated glamping sites in central France.