Family glamping on a working Limousin farm, with bikes to borrow, a pool to paddle in and 240 acres of open space and enchanting woodland to explore
When English farmers Hugh and Michael moved to La Tuilerie, a 240-acre farm in rural Limousin, they knew they were on to a winner. This, after all, is France's farming heartland and, with their passion for quality, homegrown food, the pair were ideally positioned for their agricultural adventure. Yet, if the idea to start farming here seemed good, than the idea to open the place up for rural glamping holidays is simply inspired. Where else can you kip outdoors in such comfort whilst also helping bottle feed newly-born lambs, search for wild boar in the neighbouring woodland or ride a bike from petit ville to petit ville before swimming in the pool?
Set in one of La Tuilerie's grassy south-facing meadows, Limousin Farm Holidays hosts two fully-furnished safari tents, each sleeping a family of up to six people, and a pair of Mongolian yurts, similarly decked out with birch wood bedsteads and light, cool interiors. Outside, each unit has its own private firepit, where evenings are whiled away around the campfire enjoying the sort of starry skies that only a truly rural spot like this can offer, while ample open space has been left for littl'uns to run wild by day. The real joy of 'LFH', however, is the tasteful way the old stone barns and buildings have been converted for holiday use. Each safari tent and yurt has its own private toilet and shower room, complete with cute old windows and French-made toiletries, while a communal dining space and excellent cooking area are available for all guests to use.
Along with managing the cows, sheep and free-range hens (campers are welcome to lend a hand around the farm), Hugh and Michael are also admirably green-fingered in La Tuilerie's kitchen garden, where fruit and vegetables grow in abundance. The result is a plethora of homemade produce available on site – from lamb chops to jam pots – as well as the opportunity to join in communal barbecues on Mondays and superbly cooked 'table d'hôte' dinners on Friday nights.
When it comes to exploring, many guests don't get much further than the farm. Between the nature-friendly woodland next door and the nine-metre outdoor swimming pool, there's plenty to keep you busy and plenty of spaces to lounge with a good book. All the same, Michael and Hugh are happy to lend you bikes if you fancy heading further afield and have plenty of recommendations on where to go with the car – south to Lac d'Eguzon for watersports; on to Limoges for some local culture; or west to the labyrinthine maze in Guéret where you might just be lost for days.
Campsite Gallery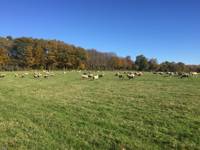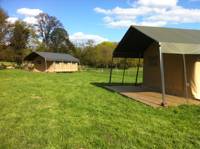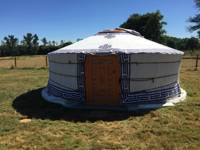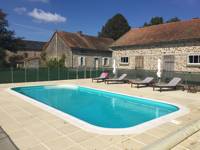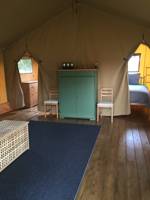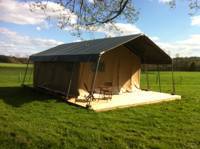 Best Price Guarantee, with no fees
Instant booking confirmation
Trusted for over 10 years
A chance to win prizes in our regular competitions
The campsite owner says
Imagine the freedom of a farm holiday in the idyllic Limousin countryside. Where you can camp out in comfort under the stars in a safari tent or yurt. Where your children can play in the woods and fields, help round up the animals or watch a lamb or calf being born. Where you can swim, walk or cycle by day, and relax around the campfire savouring delicious French food and wine by night... Welcome to La Tuilerie, your dream holiday down on the farm.
Nestled in the centre of rural France in an area of outstanding natural beauty, La Tuilerie is a 240 acre working farm run by English farmers, Hugh and Michael. We breed cows and sheep, have free-range chickens, and grow our own fruit and vegetables for you to enjoy. Surrounding our farm are acres of beautiful woodland, a haven for wildlife, everything from wild boar to deer, osprey to woodpeckers. So remember to pack your binoculars!
There's nothing to beat the romance and adventure of sleeping under canvas in a warm and cosy safari-tent or a yurt. Carefully positioned in a pretty south-facing meadow, our two yurts and two safari-tents have their own individual firepits and cooking facilities so you can get the true camping experience. A stone's throw away in an old renovated farmhouse, you'll also have the luxury of your own private toilet and shower, and a communal cooking and dining area.
With Limousin Farm Holidays as your host, you can be as active (or inactive) as you want. Take a walk; there's lots of countryside to explore on foot. Or you could borrow bikes from us and take in the many picturesque villages and hamlets that surround the farm. If you just want to catch up on your reading you could spend a lazy day swimming and sunbathing. Our new nine metre heated pool is perfect for cooling off on hot summer days. Go further afield and you'll discover many stunning lakeside beaches and beauty spots as well as a wide choice of other outdoor and cultural activities.
If you're a food lover, you're in for a treat with Limousin Farm Holidays. We're passionate about good quality, home-grown, farm-reared food. In La Tuilerie's kitchen garden we grow a wide range of vegetables and fruits which you can buy from us (along with our tender lamb and free-range eggs). And to experience French cooking at its very best, during your stay you have the opportunity to join us for a 'table d'hôte' dinner, a mouth-watering meal made from our own succulent meat and fresh vegetables.
Best Price Guarantee, with no fees
Instant booking confirmation
Trusted for over 10 years
A chance to win prizes in our regular competitions
Book campsites near Limousin Farm Holidays