Sociable, rural, bell tent glamping on the Limousin-Auvergne border where campfires are permitted, stargazing is a must and space is always guaranteed
'Canvas under the stars'. That's the direct translation of La Toile Sous Les Étoiles and an appropriate one given the dark skies that this rural part of East Limousin affords. When the sun sets and only the campfires flicker at this brand new glamping retreat, the Milky Way dazzles with its full display. Even the furtherest stars seem to wink at you.
Created by British ex-pats Nigel and Olivia Stanton, who first fell in love with the region on holidays of their own, this comfortable take on camping offers an enchanting mix of luxury and ol' fashioned outdoor fun. In a wildflower meadow, flanked by mature trees, mown pathways weave their way between the six different bell tents, each pitched on a flat wooden deck where garden chairs call out for you to sit down in the sun with a good book. Inside, the bell tents are bunting-clad beauties – think vintage chests, oak-framed beds and marble-topped cabinets – where the tiniest touches show real attention to detail. An up-cycled pastis bottle has been turned into a bedside lamp, freshly picked flowers fill a vase and complimentary tea and coffee await. There's no denying this is camping done right.
The same thoughtfulness has been given to the rest of the space. Walk past the swimming pool to old farm buildings, where you'll find bathroom facilities and a kitchen, which, though plush, still have a wonderful sense of place. The charmingly rustic washing-up sinks, for example, are made out of deep wooden buckets, while the stone ablutions barn feature exposed corrugated iron along the walls. The kitchen, well equipped for the maximum of 20 guests the site allows, has a range oven, wood-fired bread (or pizza) oven and a private fridge for every bell tent.
While such facilities make for easy living, it's the all-round setting of La Toile Sous Les Étoiles that makes it so special. It's easy to see how Olivia and Nigel so quickly fell in love with the place. The young orchard overlooked by ivy-dotted barns, the old farm tracks to stroll along and the reliably brilliant weather. Why wouldn't you want to live here? Throw in the convenient amenities of Auzances, the local town a 5-minute drive away, and the vast regional park – Parc Naturel Régional de Millevaches – a half hour drive beyond that and there's everything you could want for. Not that it's all needed. Some days are better spent doing absolutely nothing but lazing beside the pool.
Campsite Gallery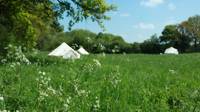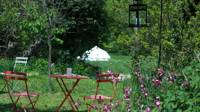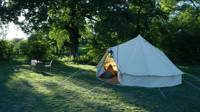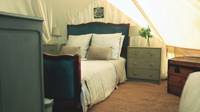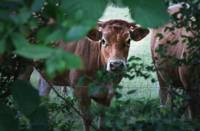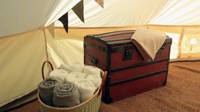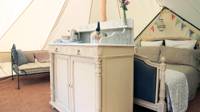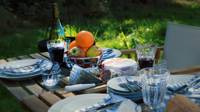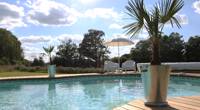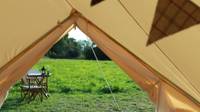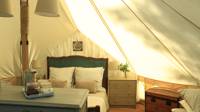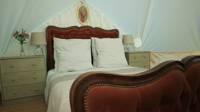 The campsite owner says
We are Nigel and Olivia Stanton, who have recently bought a property in France with a big vision of a new future!  We have spent many years living and working in the Oxfordshire area in England.  Since we married in 1991, every year we have spent holidays camping, caravanning, boating, motorhoming and self-catering, mainly in the UK but also in France.  We have learnt to live in bijou spaces without compromising on creature comforts.
Over the past couple of years life has dealt us a new set of cards – Nigel was offered redundancy after 26 years in the same company, family responsibilities have lessened and it's time to escape the daily commute and to realise a long held dream to open a campsite!  We began the search for a suitable property and considered all sorts of options along the way, finally deciding upon the Glamping route.
Now we are transforming our new property into a peaceful holiday destination for you, your family and friends to enjoy the countryside, with nature all around and rediscovering a simple but comfortable way of life.
In May 2018 we opened our small, exclusive, Glamping site on the Limousin/Auvergne border – a beautifully rural area in the centre of France with great transport links by road and air (Limoges airport is an easy 2 hours away and is served with low price flights all year round.  Clermont Ferrand airport is just over an hour a way and flights from the UK run during the summer months).
​We will be taking bookings from those needing just one tent, a number of families holidaying together, or even group bookings for the whole site (special birthday, anniversary celebrations, corporate events maybe?). Dogs accepted by prior arrangement.
WHAT WE OFFER...
Bespoke designed cream canvas bell tents – only 6 in total, with a maximum of 20 guests on site at any one time.  They are well-spaced (minimum 30m apart), and are 6m in diameter for upto 4 people and 5m in diameter for 2 people – tents are sited on wooden bases and have comfortable outdoor furniture
Forget about airbeds and think about comfortable mattresses on proper vintage French bedsteads made up with carefully chosen crisp linens ready for your arrival. There is a dresser in which you will find ample crockery, cutlery, utensils, pots and pans - just what you might have at home.  Complimentary tea & coffee, basic cooking essentials such as salt, pepper, oil plus washing up liquid and lavatory paper are all provided. Each tent is  'carpeted' with traditional coir matting
Lighting is powered by the sun and candles. Low energy LED lighting is installed in each tent powered by a solar panel for convenience and candlepower for ambiance.  The solar powered unit also has USB ports for charging your 'gadgets'.
Cooking on gas or an open fire. Options of a gas ring for that morning cup of coffee and a Kadai Fire bowl, which can be used for barbeques, heating food in the tripod suspended cooking pot, or on a specially designed pan. Alternatively, to sit round in the evening, toasting marshmallows.
Your own mains powered fridge. A mains powered fridge for each tent is provided (housed in the old pig sty!)  There are also mains sockets for charging electronic stuff.  There will also be cool boxes in the tents for the morning milk.
Luxuriously appointed shower rooms – Exclusively yours for or the duration of your stay within a centuries old converted barn
Beautiful Swimming Pool surrounded by decking and more comfortable furniture.  (The pool has a fence around it for safety reasons).
A 'Guest Barn' kitted out for our guests' use, fully equipped to cater for up to 20 guests, complete with a range cooker and a huge banqueting table and is adjacent to our original bread oven, in which we will cook you handmade pizzas on pizza nights.
A communal fire pit/barbeque area where everyone can get together for socialising and marshmallow roasting.
Star-gazing nights - the light pollution here is some of the lowest experienced in Europe – the picture on our Home Page was taken in the garden on the night we bought the house!
Best Price Guarantee, with no fees
Instant booking confirmation
Trusted for over 10 years
A chance to win camping goodies in our regular competitions!