Innovative treehouse designs, perched in the woods of France's Monts d'Ardèche Natural Park
It helps to have a head for heights if you're staying at Les Cabanes de Labrousse in the woods of the Monts d'Ardèche Natural Park. As you clamber your way up the stairs or rope ladder to your treehouse there's a very definite sense of leaving the ground behind. The highest structure – Ecureuil, the squirrel treehouse – is some 10 metres up in a stocky, Douglas fir tree and requires a harness and helmet to climb. The rewards, however, are immeasurable. The views, splintered by surrounding trees, are breathtaking; the proximity of the canopy, with birds occasionally perched atop your deck, is enchanting; and the intrinsic sense of adventure is tough to beat. If you fantasised about living in a treehouse as a kid, then Les Cabanes de Labrousse is your dream come true.
With nine different treehouses on offer, ranging from 10 metres off the ground to a more family friendly four-and-a-half, Les Cabanes de Labrousse has something for everyone. The lower structures – Beaver, Panda and Bear – are also the largest, with room for a family of five. They include staircases rather than ladders, mezzanine bedrooms and bespoke, handcrafted furniture that's individual to each treehouse on site. In everything, carefully handcrafted woodwork is at the fore, be it tiny branches delicately crafted into door handles, or chunky exposed beams holding the entire frame together.
The highest treehouses – Hedgehog and Squirrel – unsurprisingly feel the most adventurous, though Fox and Owl also require harnesses to reach. The constant clip and unclip of the safety carabiners provides a thrill as you climb and, thankfully, you don't need to continually go up and down to use the loo. Though all electricity and running water at Les Cabanes de Labrousse – including showers and flushing toilets – are found on terra firma, there are dry, eco-toilets in each treehouse and a pulley system lets you hoik supplies and baskets of food up with ease. Each morning you'll hear the jangle of a bell as Filou, Myrtle or Blueberry, the Labrousse donkeys, deliver a breakfast hamper to the foot of your tree. Tied to the end of a lowered rope, you can winch it back up to enjoy croissants on your veranda, bathed in thin shafts of light that scatter like lazer beams through the leaves.
When you're not listening to the birds or peering down over the side of the balcony, there's plenty locally to keep you busy. The wooded setting provides a shady, sheltered feel but once out on the roads of South East France you quickly realise the heat requires a refreshing swim or two. The area is renowned for its wild swimming spots, not least in the River Ardèche to the east, and there's an outdoor waterpark in Eyrium, 25 minutes away. The superb Dolce Via cycleway, meanwhile, provides a pleasant way to build up a sweat, with some 80-plus kilometres of partially wooded trail to enjoy. Follow it the 12 kilometres north through the Eyrieux valley to Lamastre and you can take a break by boarding the old narrow gauge railway there.
Campsite Gallery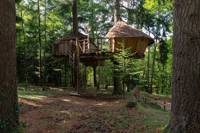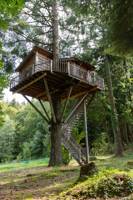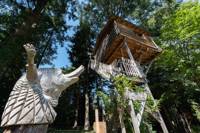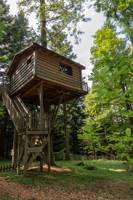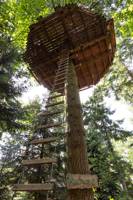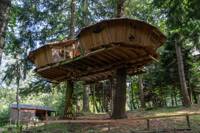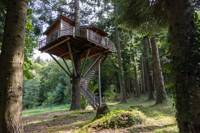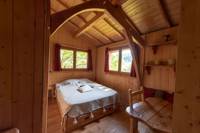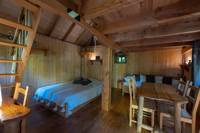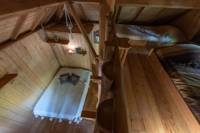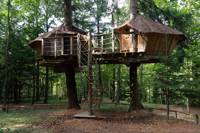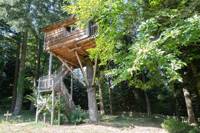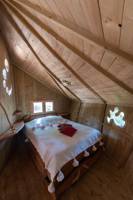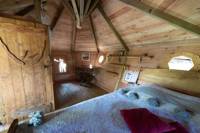 Best Price Guarantee, with no fees
Instant booking confirmation
Trusted for over 10 years
A chance to win prizes in our regular competitions
Best Price Guarantee, with no fees
Instant booking confirmation
Trusted for over 10 years
A chance to win prizes in our regular competitions