The outdoorsy feel of the real camping experience
A good mechanic fine-tunes your car so that every part seamlessly turns without the cough and splutter it had before you took it in. A good carpenter carves the last collared chair leg as carefully as he carved the first. And a good painter keeps a constant eye for detail, ever stepping back to ensure they have the perfect finish. Baby Moon, in North Yorkshire, defines itself as "the heart of a cluster of creativity" and here too they clearly know the importance of having an eye for perfection. Whether it's the costume and perfume bottles in 'The Trapeze Artist' show wagon or the famous prints of Frida Kahlo in their colourful yurt homage to the Mexican diva, Baby Moon have ensured a detailed finish to their glamping masterpiece. Expect a world of boutiquey camping where every furnishing is finished to match the harmonious colour scheme throughout and comfort is uncompromised in the process. It's certainly a place where art and accommodation seem to have been spliced together, but most importantly it still has the outdoorsy feel of the real camping experience; meadow and woodland surroundings, trickling streams and somewhere to light a campfire when dusk drops into darkness.
"Oh come on", you may say, "surely not everything is perfect?" Well, if you don't like the chirping sound of birdsong then perhaps it's not the one for you, but on most fronts it's difficult to find a weak spot. As a popular place for group bookings and exclusive hire, the three show wagons and two yurts are not enclosed in designated spaces, so those there on a simple family holiday should expect a more sociable atmosphere than sites that drop you in a private woodland clearing. For most, however, that's no bad thing and the best place to seal some camping comradery is around the communal heath fire that can be lit every evening when the weather is playing ball. Those hoping for a little more solitude can enjoy some quiet time in the white picket fence garden or consider one of the therapies that Baby Moon offer, sumptuously set in a communal yurt, candle lit and warmed by wood burning stoves. The list is fairly endless, from bioresonance to yoga, and larger bookings of the site can also arrange activities or workshops in advance such as creative writing, wool craft, forest school and bushcraft.
When it comes to the nuts and bolts, Baby Moon is still a practical place, with proper flushing toilets, gas heated showers and solar lighting. Those detailed touches shine through again with brollies by your door, in case it's raining when you need to make a dash for it, and hot water bottles, in case the log-burning stove isn't enough. Such comforts don't dent the eco-credentials either, with renewable energy at use and rainwater harvesting throughout the year, so you've got a hefty natural supply of water. The nature friendly ethos is also echoed by the chickens that scratch around outside, providing fresh eggs for sale in the Field Good shop and tea room, a short stroll away. Local, small and fully of tasty treats, a tea shop around the corner of the campsite is surely the icing on this freshly-baked glamping cake.
Campsite Gallery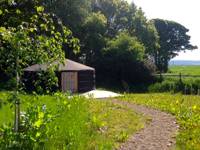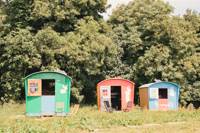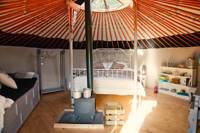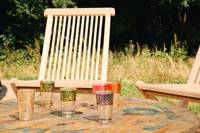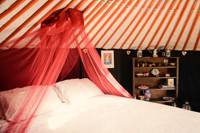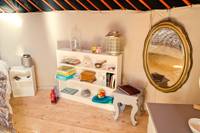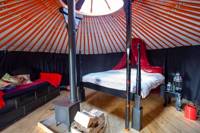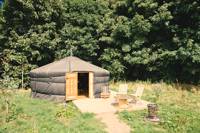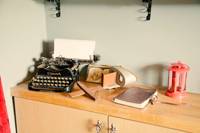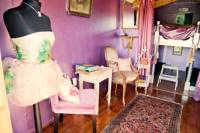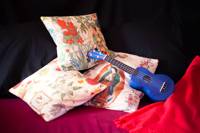 Best Price Guarantee, with no fees
Instant booking confirmation
Trusted for over 10 years
A chance to win prizes in our regular competitions
The campsite owner says
More images from Baby Moon...
Best Price Guarantee, with no fees
Instant booking confirmation
Trusted for over 10 years
A chance to win prizes in our regular competitions
Book campsites near Baby Moon Glamping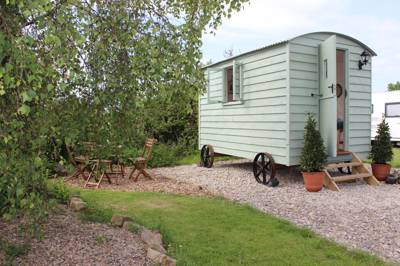 i
Glamping in Staithes
Glamping in North Yorkshire
Glamping in North East England
Glamping in England
Available:
2 Bell tents
1 Shepherd's hut
i
Glamping in Staithes
Glamping in North Yorkshire
Glamping in North East England
Glamping in England
Available:
1 Bell tent
2 Camping bungalows