Camping on the edge of Scarborough, with handy access to the coastal cycling and walking trails
It is hard, standing in the most mundane of Sainsbury's car parks, to imagine the golden era of the North Yorks railway line. Running from 1885 till 1965 it drew a steamy streak in the landscape from Scarborough to Whitby along this rugged, sheep dotted coastline. But so it is today that, within the white and black grid work of Mr Sainsbury's spaces, cyclists can put foot to pedal and begin retracing the old line, shimmying up the shoreline in some of the UK's most spectacular and under-the-radar landscapes.
2 miles north of Scarborough and a two-minute glide from the scenic cycle path, Scarborough Campsite resides. Nestled amongst the fields in its own grassy space, this vast campsite has space for no fewer than 300 pitches, so room to play is certainly never an issue. While the gargantuan size may be a little off putting, it is easy to find your own secluded corner and quieter minded folk should ask for a spot away from Burniston Road, where traffic noise can sometimes percolate through the hedge line. The best way to sink your head into a pillow of calm and quiet, though, is to try their new pre-pitched luxury safari tents. The furnished abodes feature sofas, double beds, a kitchen and a dining area so campers can turn up with nothing but a laissez-faire attitude and a map to explore the area. Facilities are excellent, folk are friendly and the fact there is a pub right next-door, well that's just a big fat bonus.
The proximity to Scarborough may provide the campsite name, with clean sands, kitsch amusement arcades, a charming old town, and outlying castle ruins, but the best of the locale expands well beyond the central townscape. Along with the old railway route, now renamed the Cinder Trail, is the Cleveland Way coastal footpath and the two together create an excellent circular walk. The pair both run adjacent to the coastline, treading the dynamic scenery where inland moors meet seafront bluffs. It's real Famous Five country with ancient smugglers' coves like Robin Hoods Bay and the unfinished village of Ravenscar. If you're a Five Go Down to the Sea fan, then try Hayburn Wyke, a boulder strewn bay perfect for crabbing and dabbling around in rock-pools. Look out for starfish sucking on the stones as they wait for the returning tide. Or, if you're more of the Five on a Hike Together type, then head back inland to the footpath strewn valleys of the North York Moors, alive with the sound of running water and the cascade of ancient falls.
The real winners, of course, are those who have delved into Five Go Off to Camp or Five Go Off in a Caravan – we know just the place for these kind of literature lovers. It's up to you to create the adventure - not that it's a challenge around these parts - but on the camping side, well, I think we've got that box ticked.
Campsite Gallery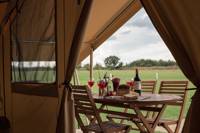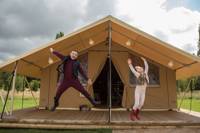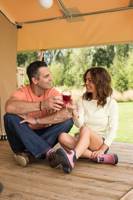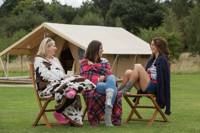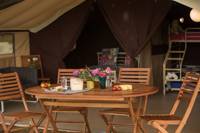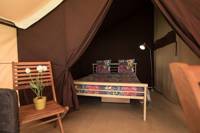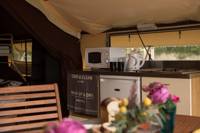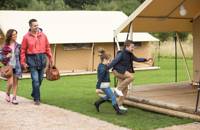 The campsite owner says
Your time spent…where it matters
Time away with family & friends is great, but let's be honest - it can sometimes be hectic to even think about!
Ready Camp takes away some of the stresses and hassles of camping - having a pre-erected, canvas-wrapped haven with real beds, a kitchen and dining area. There's no need to fill the car rammed to the rafters with an endless supply of 'just in cases'. We give you back the time to do the fun things together with your friends and family.
Pack your bedding & a sense of adventure
Walk into a comfortable haven with cosy furnishings and oodles of little luxuries.  With two bedrooms, an open plan living/dining area where you can wine and dine to your hearts content or put your feet up on the comfy settee after a long day's adventure.
The Kitchen area includes a fridge, microwave and hob, along with basic cooking utensils, crockery and cutlery. (We've even supplied the corkscrew!)
When it comes to light's out…we've even included a torch for those midnight toilet trips, or just to make funny shadows on the tent!
Best Price Guarantee, with no fees
Instant booking confirmation
Trusted for over 10 years
A chance to win camping goodies in our regular competitions!
Book campsites near Scarborough (Ready Camp)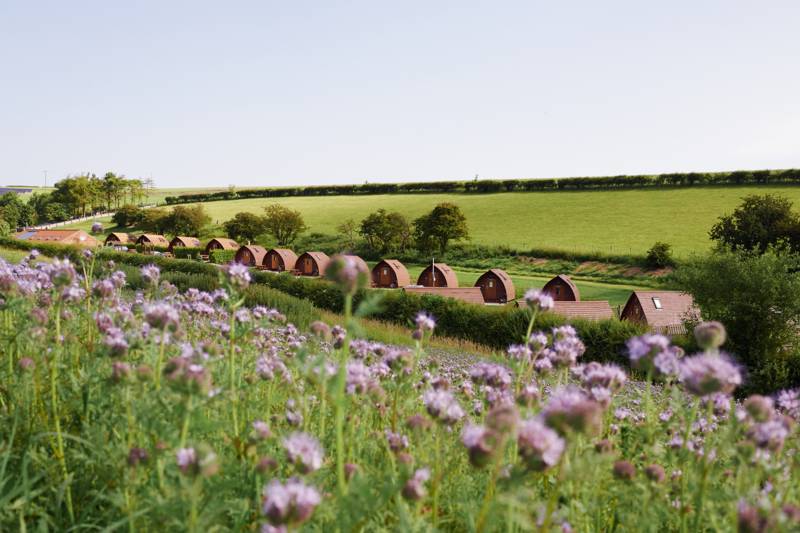 i
Campsites in Scarborough
Campsites in North Yorkshire
Campsites in North East England
Campsites in England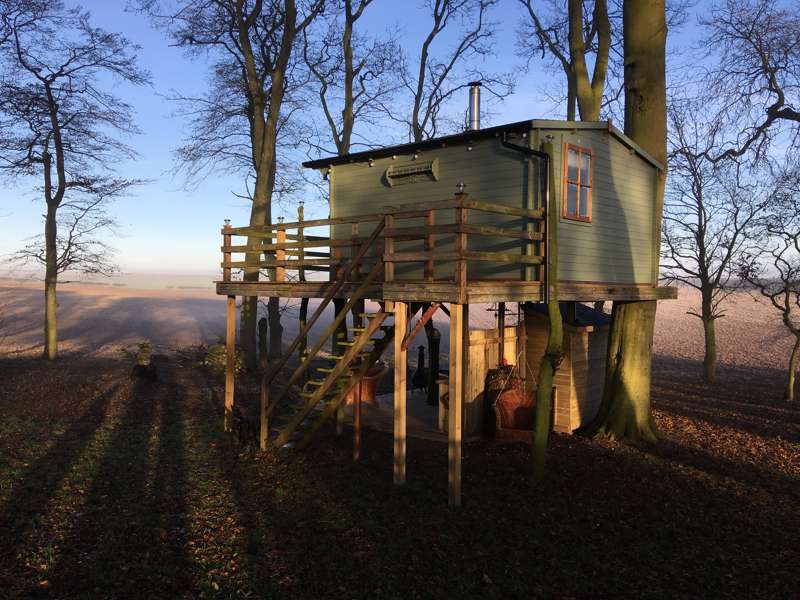 i
Campsites in Scarborough
Campsites in North Yorkshire
Campsites in North East England
Campsites in England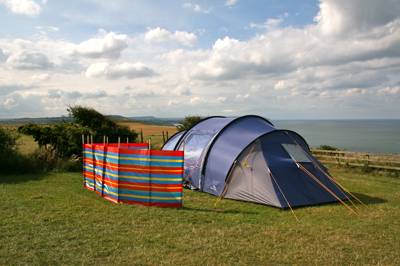 i
Campsites in Scarborough
Campsites in North Yorkshire
Campsites in North East England
Campsites in England