Book campsites near Milly's House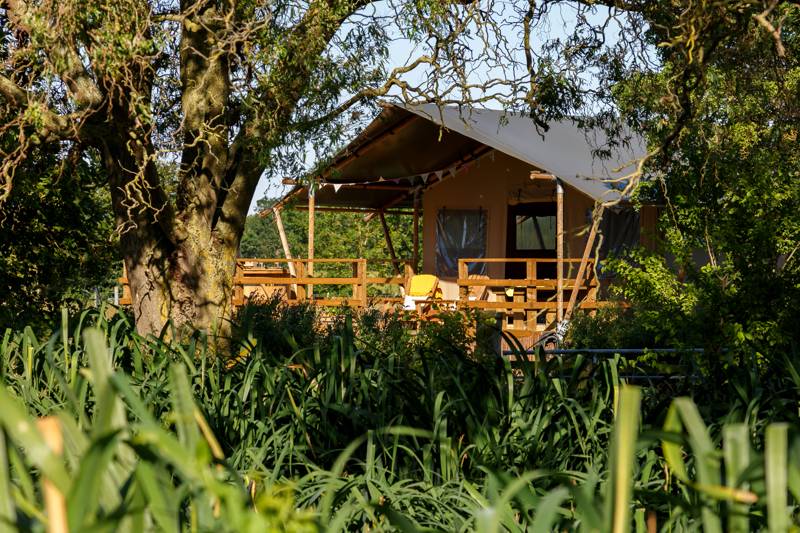 i
Glamping in Bedfordshire
Glamping in South East England
Glamping in England
Milly's House
Manor Farm, Newnham, Baldock, Hertfordshire SG7 5LA







Eco-conscious private cabin, sat by a trickling stream on a working Hertfordshire farm, boasting a luxurious interior and unspoiled countryside views
It's not a nice feeling to realise you have no imagination. Many times we have laid eyes upon a caravan and not once thought, "Yes, that chassis would make a great place to spend the weekend." Yet here we are at Milly's House – an innovative new glampsite, set on the edge of private Hertfordshire woodland – firing up the log burner, and planning to cook dinner on what may be the UK's best-located caravan chassis.
Well, three caravan chassis to tell the truth. The building has been constructed on these upscaled vehicle frames, which now support different parts of the 'Hybrid Cabin'. One chassis is the bedroom, one the lounge and reception area, and the final underpart houses the kitchen and bathroom. "All three sections are connected by tunnel footbridges, so guests can walk between them comfortably," says owner Liam. Together, the bridges weave around trees on the edge of the woodland, offering uninterrupted countryside views.
Hiding on a working agricultural farm outside Ashwell, Milly's House is completely off-grid and geared towards being eco-friendly – which belies the fact that this is actually an incredibly comfortable place to stay. The well-equipped kitchen has a gas cooker and hob, fridge, running water, and there's also a lovely private shower and a composting toilet. But perhaps the cabin's biggest treat is the 180-degree glass in the bedroom – meaning visitors can immerse themselves in the outdoors, yet stay toasty lazing in a double bed.
Outside, there's a large south-facing deck (complete with table and chairs), which perches over a small stream, providing the sound of trickling water. "The cabin is all about switching off from the world and reconnecting with the natural surroundings," Liam continues. With this in mind, Milly's House has no power sockets – the building is run from a solar system – however, there is 4G-phone signal here, for those not wanting to disconnect completely.
By day, there are lovely walks, taking in the surrounding villages, and further afield the beautiful buildings and colleges of Cambridge can be explored. As you would imagine, the tightly-packed city gets busy during summer; a far cry from Milly's House, where most guests are content simply to read a book and listen to the birdsong – revelling in the delightful sense of isolation.