Proper on-the-farm glamping
We don't blame you for thinking farms like this don't exist anymore. Pigs live in sheds now, eggs are found in boxes, fish come with chips… like Elton said: It's the circle of life. But fear not camping compadres. Mill Farm is here to put you to rights and if you fancy some proper on-the-farm glamping then your search has come to a close.
Nestled in the trees and meadows of the South Downs, Mill Farm is a delightfully rustic little farm with a host of different animals and acres for little'uns to explore. It's not a twee imitation of ye olde farming – don't expect horse drawn plows and hand scattered seedlings – but it still has a wonderfully traditional feel and, with its free range farming methods, avoids large scale commercial life. Pigs here live freely in the woods, wrestling their snouts against the roots and scratching their oversized rumpuses on the bows of old oaks, while chickens too flutter around the undergrowth. And, since there is no fixed coup, the morning breakfast can proceed only after a kid-friendly treasure hunt reveals eggs carefully deposited in hidden places.
It's such simple pleasures that make Mill Farm one of the best sites around and the accommodation itself becomes almost a side-note. Farmer's Andrew and Jennifer are knowledgeable and friendly, the amount of activities to be found are seemingly endless and the enviable surroundings (think charming old pub, traditional post office and miles of national footpaths) make it a tiptop location. Yet when you do slope back to your tent for the night, well, let's just say its time to rethink your concept of camping!
Aptly described by the site as 'canvas lodges', the ginormous safari tents feature an en-suite bathroom with shower, basin and proper flushing loo, alongside a plush master bedroom and a separate room with bunks. The real gem is actually out in the main living space – a cupboard bed that works just as the name suggests and will leave the kids fighting for its occupation. You have been warned. The décor has a slightly Country Life feel, with big bronze chandeliers and vintage-style lanterns that, when evening comes, cast a warm glow across the interior of the tent. By day, the veranda out front enjoys spectacular views towards the Blackdown Hills and by night it's the perfect place to keep the barbecue going and enjoy a quiet glass of vino from the amazing local winery. Now that's a circle of life we could go for!
Best Price Guarantee, with no fees
Instant booking confirmation
Trusted for over 10 years
A chance to win prizes in our regular competitions
Campsite Gallery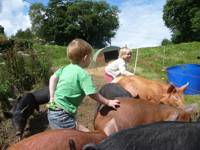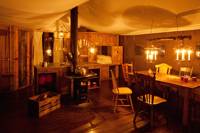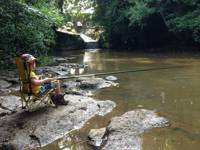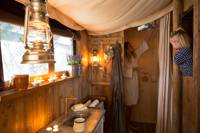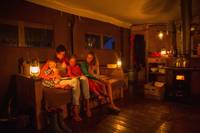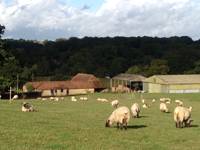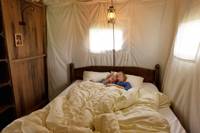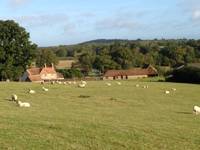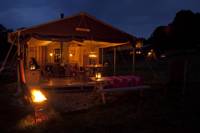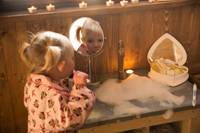 Book campsites near Mill Farm