Wonderfully private yurt glamping on the edge of Bodmin Moor with a focus on sustainability throughout
A 400-yard track leads you down to Sunnybank Farm where the scene is as wistful as the name. The smallholding is a wholesome 37 acres in total, with young hawthorn trees alongside ancient oaks, sloping down to the River Camel below. Amongst it, pastures and rough heathland open out, semi-wild and wonderfully colourful, and a handful of Hereford cows graze in the sun. In springtime, the shadier spots are awash under a tide of bluebells, with narrow, pathways worn down by the feet of visiting campers. Their destination is the trio of hand-crafted yurts secreted away among the pastures. Each has a private, view-tastic location that's well worth the wander.
First opened in 2001, Cornish Yurt Holidays was one of the earlier pioneers of what later came to be called 'glamping', with proper double beds, wood-burning stoves and cooking facilities all provided for campers who simply turn up. Today they have expanded from their first yurt but still remain notably modest given the vast amount of space the farm provides. Instead, maintaining harmony with the landscape remains founder Tim Hutton's priority. He describes it as a "low impact but maximum comfort approach", with the wood for the yurts all sourced on site and an environmental sensitivity to everything they do. Composting toilets are in beautiful wooden 'ig-loos', there's a solar and immersion shower with views onto a hedgerow of ferns and twisted hawthorn branches, and the bathroom yurt is a real thing of beauty, with a wood-burning stove that provides piping hot water straight into the roll-top tub.
While the comforts inside each yurt are unquestionable, it's the setting and atmosphere of Cornish Yurt Holidays that really stands out. Each yurt feels utterly in a world of its own, its meadow sheltered by trees, while hammocks and campfires encourage you to stay out and enjoy the starry skies that the edge of Bodmin Moor setting provides. It's less than a mile to the edge of the moor proper and you can walk from Cornish Yurt Holidays to Brown Willy, Cornwall's highest tor, in less than two hours. At the same time, the coast doesn't seem miles away – it's a 25-minute drive to Port Isaac – and the car-free Camel Trail, which begins about a mile away in Wenford, is a thoroughly pleasant way to get there.
In the evening, return for pint in the local village, a 10-minute walk away, or stay in camp to listen out for the hooting of resident tawny owls. Badgers, foxes and roe deer are occasional visitors too, while, if all else fails, Moose, the farm's inquisitive shire horse, is sure to make an appearance.
Campsite Gallery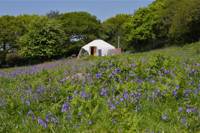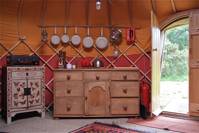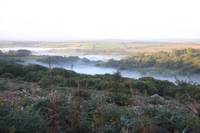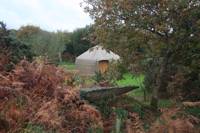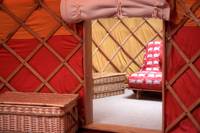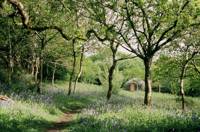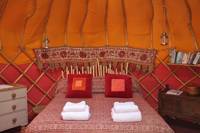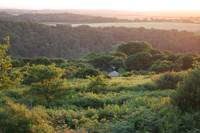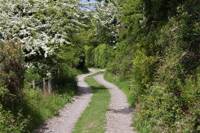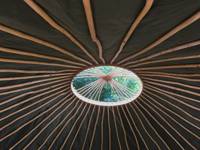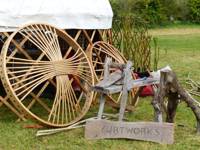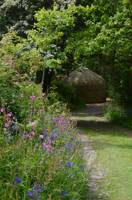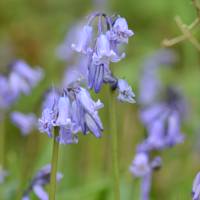 Best Price Guarantee, with no fees
Instant booking confirmation
Trusted for over 10 years
A chance to win prizes in our regular competitions
The campsite owner says
Cornish Yurt Holidays is a small family owned business based at Sunnybank Farm, a smallholding of 37 acres stretching from the top of the hill to the sheltered banks of the river Camel below. We started the business in 2001 with only one yurt and since then have grown modestly, maintaining a healthy balance between what we do and the natural environment. This low impact but maximum comfort approach has defined Cornish Yurt Holidays as one of the most environmentally friendly sites of this kind.
The holding supports a handful of traditional Hereford cows, and a grey Shire horse called Moose who used to pull logs out of the woods, before she recently retired.
The land is a mixture of pasture, heathland and woodland and has been managed to maximise biodiversity and the wildlife that lives here. The discovery of the rare Pearl Bordered Fritillary butterfly has led to special conservation measures to enhance and protect the habitat to support their survival.
With burning log fires and big open skies on the edge of Bodmin Moor the yurts are in a beautiful spot. The river flows in the valley below and the moors lie behind. The views of North Cornwall stretch as far as the sea.
We only have three yurts, made here at Yurtworks, each one set up on a deck in their own secluded patch.
Camp fires, barbecues, den making stuff and hammocks help you create your own encampment against a backdrop of gnarly old oaks.. A much loved natural heartland with badgers, foxes, otters, roe deer and some very beautiful butterflies.
Best Price Guarantee, with no fees
Instant booking confirmation
Trusted for over 10 years
A chance to win prizes in our regular competitions
Book campsites near Cornish Yurt Holidays