Rolling Dartmoor views from the yurts from the shower, and from the rolltop bath...
Once you've admitted to the camping fraternity that you're really more of a yurter, at Devon Yurt Glampsite you need to decide whether you're a Great Links or a Little Links type. While Dartmoor views unfurl from the oak door frames of both, and each hogs a prime spot on Devon's edge of the Tamar Valley, the characters of these stylish yurts are quite different.
With its enclosed garden and proximity to the shower house (we're talking slate-floored, glass- fronted wetroom overlooking rolling moors), Little Links is well suited to families with little kids. Hens and geese cluck and gabble over the fence, there's a barbecue-cum-campfire area and – perhaps the most important detail for romance-starved parents – the wood-fired bath awaits just footsteps from the yurt.
Great Links shares the same facilities, but attracts slightly more adventurous yurters. In an elevated meadow a short walk from the farmhouse, here you are rewarded with more space, more seclusion and a sleigh bed from which you merely have to plump your pillows to watch the sunrise. Getting so beautifully far away from it all comes with a downside: the walk to the amenities in pitch darkness. But fret not, there's a long-drop loo with a throne-style chair much suited to regal yurters.
Whichever yurt suits you, it's the little things that makes glamping at this place special: the fire ready-prepared, freshly laid eggs for breakfast, the veg and herb garden and home-baked rainy-day cakes.After all, how many campsites have you stayed in where rain is something you actually look forward to?
Campsite Gallery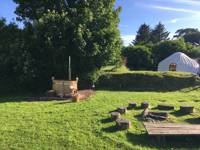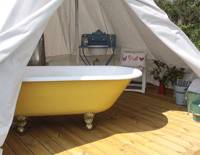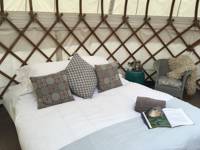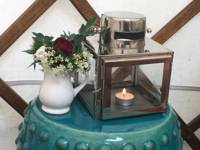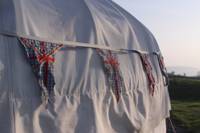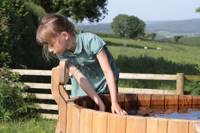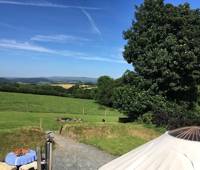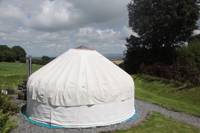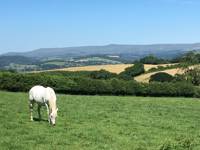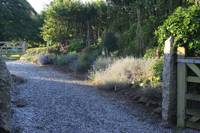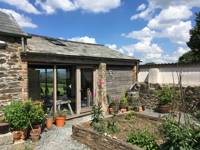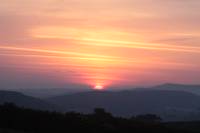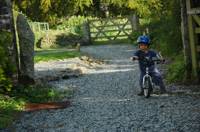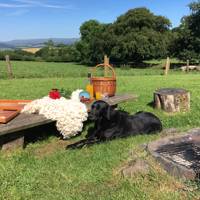 Video Tour
The campsite owner says
Here at Devon Yurt we are passionate about many things.
Firstly, our landscape, our stunning views over Dartmoor from the farm. These views are particularly precious to us as it is what inspired us to start our glamping business here many moons ago. This is what gives our site its WOW factor.
Secondly, we value the peace and quiet of this location and we are proud to announce that we are probably one of the least densely populated camp sites in the country.  Here on our 18 acres of rolling Devon grassland,  it is just ourselves, yourselves and our animals. We have just two yurts, each set in their own meadow with their own fire pits and outdoor eating area where you are free to soak up the great outdoors without interruption from fellow campers, allowing you - our valued guests all important space and privacy. We wouldn't want to camp in a field filled with other guests so we don't expect our guests to do so either !  New for this 2018 season are our wonderful log fired, fresh water hot tubs,  each yurt has its own hot tub for its own private use.
Thirdly, we are 'foodies'.  In June,  we make our own elderflower cordial which we give to you as your arrival drink. We grow our own organic fruit and vegetables which are available for you to purchase from our 'shop'. Our free range chickens lay the most fantastic eggs which we can prepare for you for breakfast, delivered to your door in a hamper with other delicious early morning goodies!
Next we value our location. Increasingly, our guests arrive and don't want to go anywhere else,  However, if guests do want to go out and about, we are lucky enough to be in striking distance of some truly magical places. The peace and quiet of the Tamar Valley, an area of outstanding natural beauty, which offers cycling, walking, canoeing and even tree surfing! The stunning north Cornwall coast, rugged and naturally beautiful with fantastic walking, surfing and rock pooling. The natural wildness of Dartmoor with its wonderfully rugged terrain, offering great riding and walking and wild swimming, not to mention wonderful pubs to refresh yourselves with delicious locally sourced food.
Next we value the wildlife in this haven, the early morning birdsong, the bats, the foxes and badgers, the hedgehogs and butterflies, we encourage our guests to notice what is around them and this year we have introduced bird tables and guidebooks and nature logs to each yurt. One guest announced last Summer, 'It's not every morning you see a buzzard on the way to the bathroom!'
Next, we are passionate about our domestic animals, our chickens – you can collect your own eggs from the hen houses!  – our rare breed Devon and Cornwall Longwool sheep which you can help feed, our new flock of stunning Zwartble sheep and our Connemara ponies which you may see being prepared for the local shows in the Summer and our new Labrador puppy Archie, who is always happy to welcome new guests.
Last, but not least,  we are passionate about sharing this hidden corner of the world with you, about making your holiday truly memorable and providing you with a retreat from our all too frantic lives, making your holiday truly relaxing and enjoyable.
To make your reservation please visit us at contactus@devonyurt.co.uk
Availability
Call us for a chat,  a booking or to see if we have any last minute availability or special offers
Best Price Guarantee, with no fees
Instant booking confirmation
Trusted for 10 years
A chance to win camping goodies in our regular competitions!
Book campsites near Devon Yurt