A pair of cosy private yurts, a wood-fired hot tub and acres of space all to yourself
There's a constant fight going on at Walnut Farm and, try as we might, we can never quite pick the winner. It's a two-way tussle between the yurts (in the red corner) and the surroundings (in the blue corner). Both are battling it out to impress you.
On first arrival, it's the yurts (Russet and Pippin) that have you won. Situated in their own separate, private paddocks (the former in a meadow above the farm; the latter by the cherry orchard), the light canvas structures sit upon larch decking with wonderful views across the valley. Inside, each cosy abode features exposed wooden latticework criss-crossing its way to the ceiling, crowned in the centre with a traditional circular window that pools in natural light and allows indoor stargazing at bedtime. The furnishings are in keeping with the style – Moroccan-style rugs, a cosy wood-burning stove, hand-carved bedside tables crafted from an alder felled just yards away. But Walnut Farm isn't lacking on modern comforts, like a Nespresso coffee machine and electricity throughout. Then there's the fancy en-suite bathrooms each yurt boasts, with an excellent shower, proper flushing loo and all the toiletries and towels provided. The whole place is a cocoon of glamping comfort.
You haven't settled in for long, however, before the view from your yurts open doorway draws you out. The surroundings are next to win you over. Set within 12-acres of farmland – a maze of fruit trees, streams and paddocks – guests have plenty of space to roam, with several footpaths leading directly from the farm. The nearby cherry orchard is home to the Walnut Kitchen, a third yurt which houses a shared kitchen, with a sink, stove, cabinets and cooking utensils to use, plus a clearing space for evening campfires and a clay pizza oven you can use. Then there's the ultimate luxury of a wood-fired hot tub beneath the stars, the perfect place to end your evening.
The landscape beyond provides countless options – this isn't a place for indecisive campers. To the east, you walk through meadows and stroll over bridges to Loscombe Nature Reserve, a haven for birdlife, while to the west there's the Half Moon pub, an equally short wander away. South, meanwhile, Dorset's famous Jurassic Coast unfurls before you – it's around a 10-minute drive in the car – and then there's the vibrant town of Bridport that stops you along the way (a particularly nice spot to explore if you want shops to hide in during a rain shower).
Options abound and there may be endless choices but at least Walnut Farm solves one decision for you. Where to stay next time you go glamping in Dorset. Ahh, problem solved. Nespresso anyone?
Campsite Gallery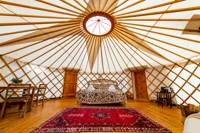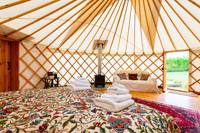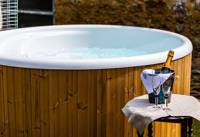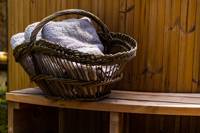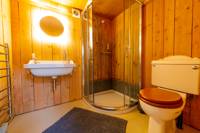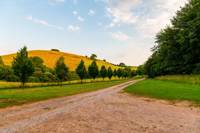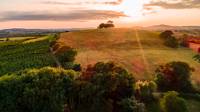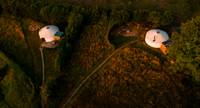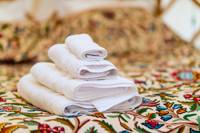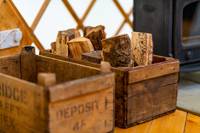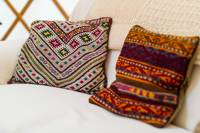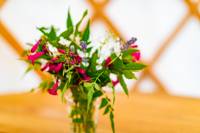 Best Price Guarantee, with no fees
Instant booking confirmation
Trusted for over 10 years
A chance to win prizes in our regular competitions
Video Tour
The campsite owner says
At Walnut Farm we invite you to slow down, relax and enjoy our luxurious glamping experience. We are situated in a truly secluded and tranquil spot in West Dorset on the edge of a nature reserve, where you are guaranteed a unique and peaceful break with spectacular views.
Russet is a spacious yurt with a hand crafted en-suite bathroom, which is tucked away in its own paddock on the side of a hill with fabulous views. The yurt has a superbly comfortable vi-spring superking bed made up with the finest linen and downs for an unforgetable nights sleep. Rustic log bedside tables, beautiful rugs and individual vintage furniture make for a unique stay. The en-suite bathroom has a proper flushing loo, sink and a piping hot shower – we also provide you with an abundance of fresh cotton towels.
There is something truly magical about sleeping under canvas and being able to watch the stars come out from your bed. Despite being tucked away in beautiful countryside, our farm is less than 5 minutes drive to the vibrant market town of Bridport and pretty harbour of West Bay, part of the impressive Jurrassic coastline, a 'World Heritage Site', making us perfectly situated to explore this spectacular area.
Best Price Guarantee, with no fees
Instant booking confirmation
Trusted for over 10 years
A chance to win prizes in our regular competitions
Book campsites near Walnut Farm Glamping