Handcrafted shepherd's huts in a wild, unadulterated meadow with the option of a wood-fired hot tub
There's something terrifically organic about Thistledown Glamping. Smuggled away down a single-track road in West Wales, the two, hand-built shepherd's huts, with their natural, wooden fences and thistle-strewn surroundings seem to have grown out of the wilderness. The aesthetic is very much intentional.
"Manicured lawns are not the style we're aiming for", Claire Hall explains. We're led down a gravel pathway with southeasterly views to the first of the two huts. "In order for the pretty flowers to grow we have to let the weeds grow up a bit too. We've done some extensive planting but at the same time we encourage nature to take its course and find its own way." The result is an exceptional harmony between man and meadow.
At the first hut – Wren – a willow fence encircles the Scandinavian-style hot tub. Ready to fill and light, the wood-fired tub makes an enticing spot to spend an evening stargazing. There's also a raised deck with a campfire pit and canopy, while, inside, the finish – all handcrafted wood and egg-shell paintwork – is exceptional. The compact kitchen has a fridge, sink, hobs and everything you need, while the raised bed is positioned so you have the best views from the window in the morning.
In the same meadow, 30 (or so) metres away, there's a second, larger hut. Although it lacks the luxury of its own hot tub, inside it matches the former for beauty and functionality, with extra space for families. The added room allows for a set of sturdy bunk beds, with the same, exceptional woodwork running throughout, and, just like the Wren hut, it has it's own private bathroom a short stroll away.
One of the main reasons the huts fit so sympathetically into their surroundings is because husband Tim, not only designed them, but also built the two huts himself. Indeed, the site was a real family vision. From scribbled designs to the finished product, Claire, Tim and their two children have committed to creating a place that fits with the surroundings. Materials are all reclaimed, up-cycled or local, while the natural spring in the meadow helps turn a water wheel that Tim has created; using the chains and cogs from an old bike, it will soon power lighting around the site.
From the meadow there's a pleasant country walk to the local pub (occasionally with Red Kites to be seen soaring overhead) that takes about 20 minutes. Log fires and real ales make it a good winter bolthole, while floor-to-ceiling windows let the greens of Wales pour in during summer. Like the glampsite, too, the pub is dog friendly, so if you've had a day running wild on the nearby beaches of Cardigan Bay, exploring the old castle ruins in Newcastle Emlyn or throwing sticks for your pooch down by the River Teifi, you'll still all be welcome inside.
Best Price Guarantee, with no fees
Instant booking confirmation
Trusted for over 10 years
A chance to win prizes in our regular competitions
Campsite Gallery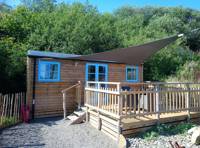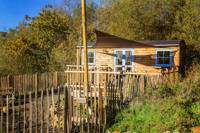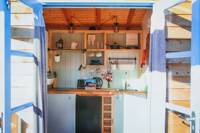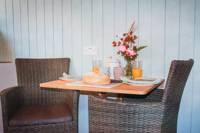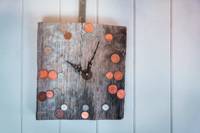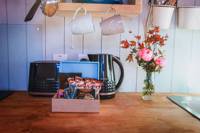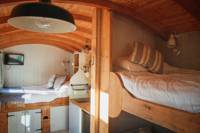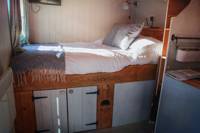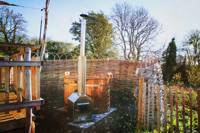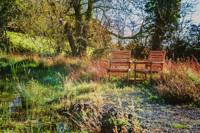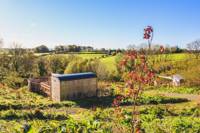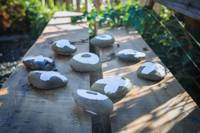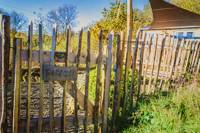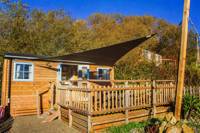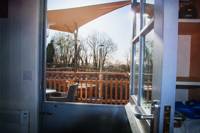 Video Tour
The campsite owner says
Thistledown Glamping has been entirely designed, created and built by Tim & Claire so you will never find another Shepherd Hut or site like ours. Nestled in a quiet corner of West Wales, the stunning Shepherd Huts at Thistledown Glamping are tucked away in a pretty thistle scattered meadow. With their unique touches & quirky style we aim to bring you a little bit of luxury in natural surroundings.
The huts have electricity, WiFi, heating, quirky private bathrooms a short stroll away & indoor cooking facilities as well as everything you would expect from a glamping adventure such as a fire pit, wood fired hot tub, beautiful scenery & outdoor seating so you really can have it all!
Our handcrafted Shepherd Huts are waiting for you to enjoy; sit back in your own private outside area, breathe in the scents and sounds of our tranquil corner of West Wales and watch the Red Kites soaring overhead. You are welcome to bring one well behaved dog.
Book campsites near Thistledown Glamping