A family-run, eco-friendly glamping site set in 25 acres of woodland on the beautiful Welsh borders
As any good nursery school teacher will tell you, the easiest way to tell the age of a tree is to keep walking until you can put your hands on your knees, peer back, upside down, through your legs and see the very top of the branches in the distance. The number of paces you have to walk is the amount of years that tree has grown. It's a crude method, but few things will delight you more than seeing a forest full of kiddies, bobbing up and down, pacing around and ducking their heads between their legs like a field of clumsy, oversized chickens. At Redwood Valley, they'd have to walk a long, long way.
Deep in the wilds of the Welsh border, this secluded haven is home to such vast, mature trees that you can't help but lose time simply enthralled by them. At its heart is the giant redwood that gives this campsite its name, a tall grandfather of the forest, with its distinctive auburn bark. Even the campsite's rope-swing has to do that bit extra to fit in – the rope from branch to swing is about 20ft long!
Snuggled among it all, Redwood Valley is a site with a clear affinity with its surroundings. With just two yurts and a woodland cabin, effortlessly blended in among the forest backdrop, the place is quiet, unobtrusive and effortlessly charming. The more curvaceously roofed of the two yurts (built in the Turkmen style) has wonderful steam-bent wooden latticework inside and simple yet extremely comfortable furnishings. The second, Mongolian-style structure has a little more flair than its partner; the door and interior woodwork are hand-painted in a decorative, traditional style, and extra furnishings, like fairy lights, add to the magical feel. The separate, stilted cabin is perched high on the slope overlooking the brook, giving it a treehouse-like feel. From its balcony, you feel almost a part of the canopy, alone among the birds, while four floor-to-ceiling windows constantly bring the outside in. Lovingly crafted out of timber from the valley, it seems to melt from view, offering complete privacy.
All three structures benefit from a snug wood-burning stove inside and a firepit-cum-BBQ outside. Campfire cooking, though, is a primitive choice in comparison to the wooden kitchen lodge, which has an almost Scandinavian feel. Set into a bank with trees all around, it features fridges, hobs and everything you'd expect of most holidayhome kitchens, transplanted to this breathtakingly wild setting – a truly special place in which to prepare your supper. The same building houses an excellent gas-powered shower, while a long, hand-crafted table allows for a leisurely feast as the sun disappears beneath the tree tops.
Elsewhere, there is plenty to do nearby. The bustling town of Presteigne, renowned Hay-on-Wye and historic Ludlow Castle, are all a short drive away but the biggest rewards are still far closer to home. It's the simple pleasures at Redwood Valley that make it such a special place. Dabble in the tiny brook or walk the pair of nature trails that dip in and out of the trees. Or why not explore two countries for the price of one and trek across the border into England… it's only a few hundred meters away.
Best Price Guarantee, with no fees
Instant booking confirmation
Trusted for over 10 years
A chance to win prizes in our regular competitions
Campsite Gallery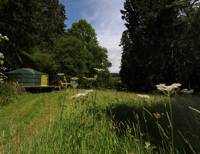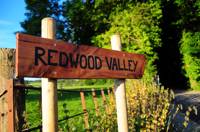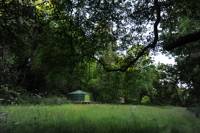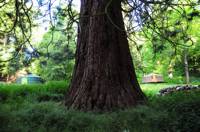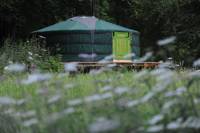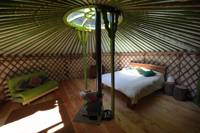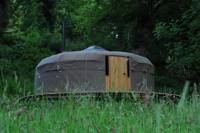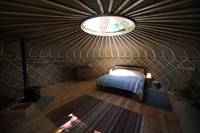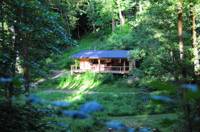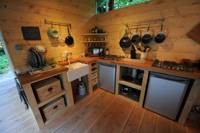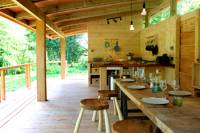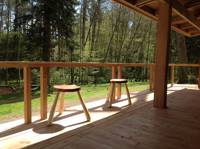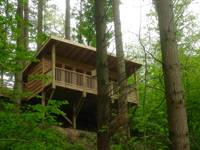 The campsite owner says
We are a family-run, eco-friendly yurt camping site set in 25 acres of woodland on the beautiful Welsh borders. Redwood Valley is a secret refuge where kids can roam free and you can enjoy absolute peace and tranquillity. Our hidden valley has just two secluded yurts nestled on the edge of the woodland and overlooking the wildflower meadow, brook and our mighty Redwood. Whether you are having a romantic meal under the stars after a cultural day in Hay on Wye or toasting marshmallows on a campfire with your family after a hike to the enchanted local waterfall, you really will feel as though the modern world is a million miles away. We are sure you are going to love it and look forward to welcoming you soon.
Book campsites near Redwood Valley