Two glamping cabins tucked in a vast organic gardens in the foothills of the Berwyn Mountain Range, Wales
It's fairly common to leave a holiday and feel you didn't quite manage to do everything – you can't visit every beach, walk every footpath or drink your way through every pub (though, you may certainly try) – but to leave a campsite and feel you haven't seen it all is quite a different matter. Somehow, however, this is exactly the aching feeling that follows you out the gate at Wyldwoods Eco Retreat. Like the proverbial giant onion, it is a multi-layered place with something new to discover every time you delve a little further. As if home to endless secrets, you can peek, poke and play around to your heart's content only to return again the next year and do it all again.
Originally a vast and well-manicured organic garden that was open to the public, three and a half-acre Wyldwoods was left to nature for several years before current owners, Dawn and Tony, took over. Through their hard work the garden has been crafted back into gloriously colourful shape, while an element of its newfound wildness has also been maintained. The result is like something out of Frances Burnett's The Secret Garden, a haven not just for humans but also for a wealth of native wildlife, with fledglings flittering between the thick, mature hedgerows and owls hooting in the night.
Nestled in two separate corners of the site – one on the edge of it's own private lawn, the other it's own terrace with views across the valley – two wooden glamping lodges are found. Both are kitted out for year-round glamping breaks, with a large double bed and wood burning stove that are perfect for bolting yourself away in the wilds of autumn, while outdoor furniture allow you to make the most of long, light summer evenings. Small attention to detail, like a supply of board games and romantic old-style lanterns, show the care that Dawn and Tony have put into the place, while their clear passion for the garden can be seen in the cabins' more decorative items – branches woven with fairy-lights and horticultural pictures on the walls. Each cabin even as its own potager of herbs and seasonal leaves to enliven your dinner.  
Keep an eye out for wildlife when you take off to explore the various terraces of the hillside garden. Nuthatches, woodpeckers and finches are all common here, nesting in the upper reaches of the grounds where trees back into Pant-Yr-Eos Forest, owned by The Woodland Trust and coloured by a blanket of bluebells in spring. Guests at Wyldwoods Eco Retreat have private access to the forest, following the path straight out of the garden. Or you can stay and roam the patchwork of herbaceous borders and colourful rhododendrons, or collect fallen branches for your outdoor chimenera from the mature terraced woodland, all accessed by meandering, cobble pathways. A small kitchen garden also bristles with organic goodness – Dawn and Tony will be pleased to give you a tour. Each and sell you some organic seasonal fruit and veg
With so many hidden corners to the site itself, three acres quickly feels more like three hundred and you could easily stay put without ever venturing to the Berwyn Mountains beyond. We do advise venturing forth at some point though – there's an entire world beyond Wyldwoods even if your nicely hidden away from it. Just remember, don't rush. You'll never feel like you've done it all.
Campsite Gallery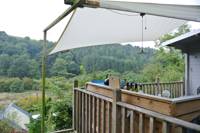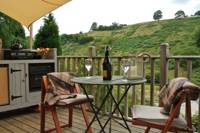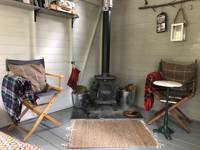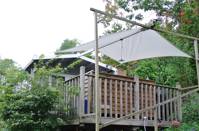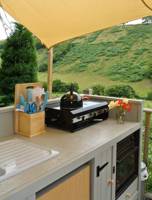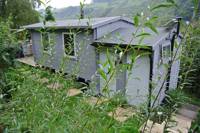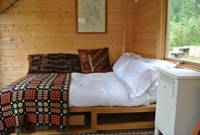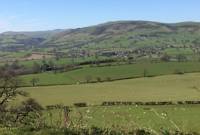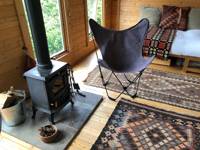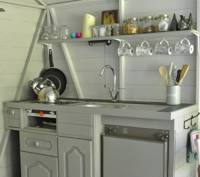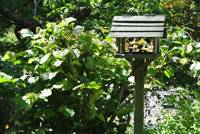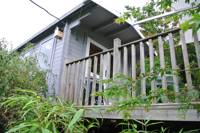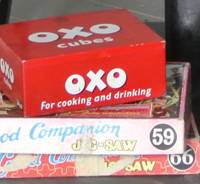 The campsite owner says
Wyldwoods Eco Retreat sits in a stunning setting, nestled amongst the foothills of the Berwyn mountain range, looking down onto a beautiful secluded valley. With stunning views of the dramatic Gyrn Moelfre (the location for the Hugh Grant film The Englishman Who Went Up a Hill But Came Down a Mountain.)
If you are looking for some peace, either alone, as a couple, or with your children, then you are sure to find it here in our large 3.5 acre organic garden with its private access to Pant-yr-Eos Woodland Trust forest.
Stay in one of our two impressive lodges that are set quietly within their own garden or private terrace.
Our guest accommodation is perfectly situated on the Welsh border, within 8 miles of the historic market Town of Oswestry, 5 miles from the unspoiled village of Llanrhaeadr-ym-Mochnant, with local food stores, fish and chip shop, post office, traditional butchers, restaurant and friendly pubs. Llanrhaeadr is famous for its spectacular waterfall which is the highest in Wales. Wyldwoods retreat is just 25 miles from the Medieval city of Shrewsbury with its cobbled streets and timbered buildings and 25 miles from the walled Roman city of Chester.
A stay at our retreat is ideal for relaxing, bird and badger watching, hill walking, mountain biking,or visiting the many historic local sights, both man made and natural.
Best Price Guarantee, with no fees
Instant booking confirmation
Trusted for over 10 years
A chance to win camping goodies in our regular competitions!
Book campsites near Wyldwoods Eco Retreat