An innovative tent-cum-tree-house that offers both a unique camping experience and a wonderful location
Remember when you were young, carefree and charging around like a wild thing in the woods? And then you got that little bit too carried away and found your frisbee was stuck in the trees or your football wedged high amongst the branches? Well take that football, enlarge it into a bright and bulging sphere of wendy-house type proportions and you get an idea of what this weird and wonderful tree tent looks like.
Well… sort of. It certainly hangs among the branches like something only an overzealous human could have flung there, its bright turquoise exterior contrasting colorfully against the trees, yet this is far from a children's toy. Deep in the woods of mid Wales, overlooking a babbling, rocky brook, Red Kite Tree Tent is in fact a masterpiece of design and architecture, and a rightful show stopper in Channel 4's recent series of George Clarke's Amazing Spaces.
A combination of hybrid aluminum and steam bent, green ash, Red Kite Tree Tent's frame is suspended among native pines by unobtrusive metal wires. Initially it may sound a little daunting, as if you're dangling far from anything, but the tree tent also backs on to a large decking area with chairs, a table and an outdoor cooking space. Inside a main support pole is a shiny centre piece, surrounded by a plush double bed and a cosy wood burning stove, while the magenta lining gives a mature and cosy feel that seems to fit with the forest setting. There are few places that are as enjoyable to camp in when the weather is both good and bad but here a dodgy forecast is almost a pleasure: You can shut yourself away, stoke the fire and feel unbelievably cocooned, the wind making an accentuated rushing sound amongst the trees and the tent rocking gently within the air!
Though its innovative design could fill a book – or indeed a television show – Red Kite Tree Tent owes as much to its setting as to the structure itself. Down a seemingly endless single lane track, the site has an immediate sense of peace and isolation. It's a place to re-engage with the forested surroundings, dabbling around in the stream and simply enjoying the pleasures of having the vast 80-acre woodland entirely to yourselves. There's wildlife aplenty and, as the name suggests, red kites swooping overhead are not an unusual spectacle. To really get up close, though, it's a 20-minute drive to the Gigrin Farm Feeding Station – not to be missed.
Campsite Gallery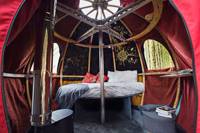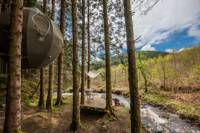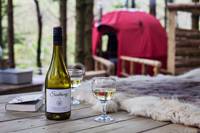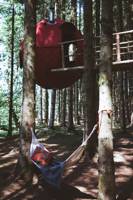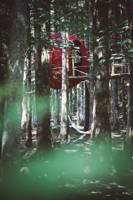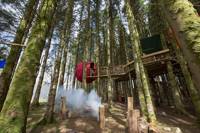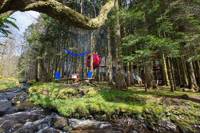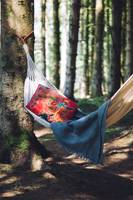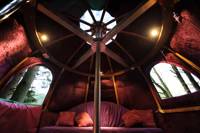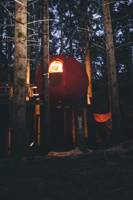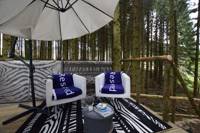 Video Tour
The campsite owner says
One Forest - Two TreeTents. AND newly-landed this season is the startling Conker, a completely spherical UFO-type pod set high up above our own magical Red Kite woodland and enjoying breathtaking views of the surrounding moorlands.
Approached by its own fairy bridge, the Dragon's Egg Tree Tent (the red one) has two sweeping wooden decks so you should bring your own copy of Midsummer Night's Dream to declaim if that's your thang. Ynys Affalon (the green one) is the classic original, featured on George Clarke's 'Amazing Spaces', a rich verdant green orb, with opulent purple interior,  named after the Isle of Avalon in Arthurian legend. She remains welcoming and intimate, cradled like a barque in the breeze and is approached from the north part of the estate via her own private bridge.
Above the lusty shout of a vibrant  stream you can hear the harmonious Welsh dawn chorus. A twitcher's paradise, aesthetically rich, green and pleasant, this very special spot makes for an extra-special romantic experience, nestled in the canopy. Outdoor cooking, baked bananas, toasted marshmallows...sitting by the fire pit. What's not to enjoy? Piece de resistance under construction for the brave at Dragon's Egg  is the new log and rope bridge-short-cut to the glampaloo. It isnt only sheep here: you may see red kites and buzzards and owls and hares and wild rabbits and lots besides. You are located within striking distance of the Brecon Beacons and Hay-on-Wye (the world-famous town of books), and the western coastline of Wales, and close to Builth Wells and Llandrindod Wells. It is perfect for long countryside walks through forests and valleys, past waterfalls and mighty reservoirs, and for mountain biking, fishing, canoeing and just hangin'.  You can even invite your friends and keep it private by booking them into the gorgeous Red Kite Barn only moments away across the wooded valley.
Contact bookings@chillderness.co.uk or 07951 957 067.
Best Price Guarantee, with no fees
Instant booking confirmation
Trusted for over 10 years
A chance to win camping goodies in our regular competitions!
Book campsites near Red Kite Tree Tents