Breathtaking mountain views and a freshly cooked breakfast delivered to your door – this is glamping bliss
Mountain Lodge might just be North Wales' best kept secret. Plotted on the slopes above the unassuming market town of Abergele (lesser-known neighbour of Llandudno), the features of this hillside-hideaway read like a glampers' wish list. Overlooking the 19th-century Gothic folly of Gwrych Castle, her undulating, buttercup-dappled slopes (in the spring at least – be sure to bring your wellies in the winter) give the place a faintly Alpine air. And while the Von Trapp family mightn't be on hand to greet you, the hills are certainly alive here... with the sound of contented campers.
Tudor and Penny Roberts are the industrious and affable hosts that have created Mountain Lodge's unique abodes, with two shepherd's huts, accompanied by a stable and barn, in the main glamping meadow. The huts, sleeping up to six, play the role of bedrooms, while the barn and stable act as separate living quarters, fitted out with all the modern conveniences you need – double beds, a hot shower, comfy sofa and chairs. Despite these luxuries, Mountain Lodge still retains a real sense of self, from the rustic charm of the wood-burning stoves and slate-tile floor, to the kitchenette's Belfast sink. It has an unbeatable sense of charm.
The setting is an attractive one for birds as well as humans, with buzzards, red kites and ravens all regularly sighted here. Friendly ducks and geese, from the lake in the neighbouring meadow, are even more frequently seen, while, for the most secluded setting, there is also a cute stone hut on a wooded mound 200 metres away. Across a long, narrow field, the stone hut has a double bedroom and a large living space with an unusual cast iron wood burner. The solar-heated shower room at the end of the building is a particular highlight, much loved by regular visitors, who revel in the hut's off-grid ethos – there is no electricity so you'll have to light the fire to brew your morning cuppa.
Accommodation aside, it's the little touches that really make your stay at Mountain Lodge, like freshly-baked Welsh cakes waiting for guests upon arrival; a well-stocked fridge; cooked breakfast brought to you; or the offer of a lift to the station for carless campers. Tudor and Penny are also enviable well-springs of local knowledge and their enthusiasm for the area is infectious. Whether it's pointing out the peaks while you bask in Mountain Lodge's panoramic views of the Carneddau range, or giving some inside tips on where to go in Snowdonia, they're happy to lend advice. Throw in the site's proximity to the stunning Colwyn Bay and you realise Mountain Lodge really does offer the best of sea and sky.
Details
Facilities
Shepherd hut's with stable and barn (sleeps 6): The shepherds huts are the bedrooms and the stable and barn act as daytime accommodation. One shepherd's hut sleeps 4 with a bunk bed and a double bed at either end. The second hut has a double bed only. Both have wood-burning stoves and electrics (lights and sockets). The stable, close by, has all the facilities that you'll need, including a heated shower room with toilet and washbasin and a wood-burning stove with a large top cooking plate. There's a large sofa, a kitchen area with fridge, kettle, cutlery, utensils etc and a fridge stocked with fresh milk, water, butter, cheese and yoghurts. A door leads from the stable into a barn which has an open area for you to sit and enjoy the views and a darts board. The stone hut (sleeps 2) is is in a separate area, up on a mound and in a very secluded spot surrounded by woods. It has 2 rooms – a double bedroom and a living space. It has an unusual cast iron wood burner with 2 cooking rings, small sofa, table and chairs and kitchen area with cutlery, utensils etc. A solar panel provides lighting and the shower hut with instant hot water is at the end of the building. The compost loo is just round the corner. There is no electric so you will need to get the fire going to boil the kettle. A cool-box is provided and the ice packs changed daily.
Suitable For
Glamping only. Couples, families, groups, dogs – yes. Tents, campervans, caravans – no.

Nearby
Where to begin? With Snowdonia and Colwyn Bay, plus the beaches of Anglesey all within easy reach, there's plenty of scenic eye-candy to astound and amaze. You can explore the area on two-wheels with excellent off-road trails and the coastal cycle path about 2 miles from the site. Stroll along Colwyn's historic promenade and Victoria Pier, en route to the charming seaside resort of Rhos-on-Sea where, according to local legend, Welsh prince Madog sailed from in 1170 and discovered America – a full 322 years before Columbus' famous voyage. The Welsh Mountain Zoo (01492 532938) boasts a menagerie of exotic species including snow leopards, red pandas and Sumatran tigers. North Wales is of course a land of castles. Conwy Castle is one of the more impressive in Edward I's chain of fortifications– the views from vibrant seaside resort Llandudno are breathtaking (UNESCO agree too, designating it a World Heritage Site in 1986).

Food & Drink
Onsite, the stable fridge is stocked with fresh milk, water, butter, cheese and locally produced yoghurts. The Bodnant Welsh Food Centre (01492 651100) is just down the road at Furnace Farm. Here you'll find a culinary celebration of all things Welsh – from Aberwen cheese, and shellfish from the Conwy Straits, to salt-marsh lamb from the Gower. The centre's Hayloft restaurant boasts phenomenal mountain views and a menu to match. Llanelian yn Rhos' White Lion Inn (01492 515807) is a cosy country pub, parts of which are reputedly over 1200 years old! They also do a fine selection of CAMRA-approved ales. The Kinmel Arms (01745 832207) in the quaint hamlet of St. George, near Abergele, offers a refined dining experience. Further seawards, The Toad (01492 532726) has spectacular views overlooking Colwyn Bay, while The Queen's Head (01492 546570) en route to Llandudno, has a friendly bar and menu of pub grub favourites.

Open
All year.
Location
Contact Mountain Lodge Glamping, Tan-y-Gopa Road, Abergele, Conwy LL22 8DT
Getting There
From Abergele, exit the A55 at Junction 24 and proceed to the town centre. Go straight on at the first and second set of traffic lights, then head out of town passing the yellow building (the police station) on your left hand side. Take the next left hand turn which is in front of the castle gate entrance pictured below. Follow this road for a few hundred yards and take the next right turn so that you are basically following the stone wall on the right hand side. You will pass Abergele Golf Club on the right, a council depot on the left followed by the entrance and car park for Coed-y-Gopa woods on your left. Follow the road and after about a quarter of a mile take the next left turn which takes you up a farm track. As you turn you will see the name Tyddyn Uchaf on a slate in the stone wall. Follow the track up the hill and round a couple of sharp bends and at the farm entrance turn left to continue along the track. There are a few pot holes from now on so you need to take your time. Mountain Lodge is the next place on the left hand side.
The nearest railway station is Colwyn Bay (0845 748 4950). Tudor and Penny are quite happy to pick up guests and drop them off.

Book campsites near Mountain Lodge Glamping
Glamping in Abergele
Glamping in Conwy
Glamping in North Wales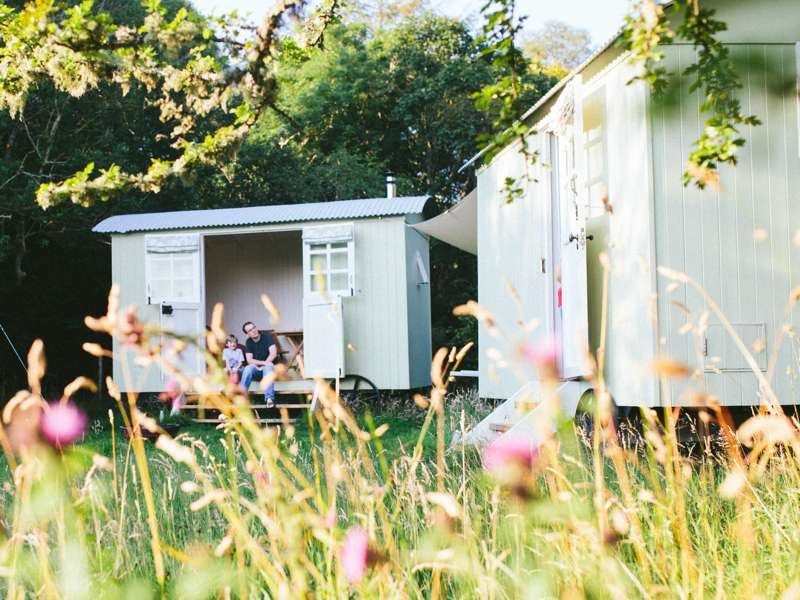 Glamping in Betws y Coed
Glamping in Conwy
Glamping in North Wales
Available:
1 Shepherd's hut
2 Apartments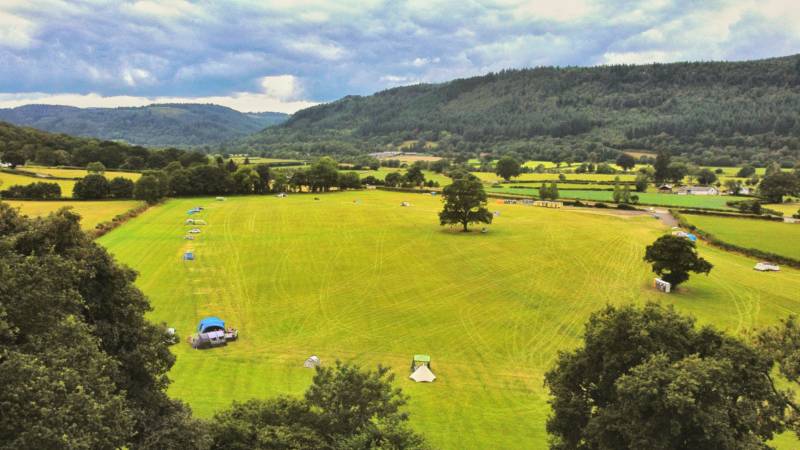 Campsites in Betws y Coed
Campsites in Conwy
Campsites in North Wales